Your wedding day is supposed to be all about you and your new husband. The few months leading up to the big day though is a time for you to roll up your sleeves and get crafty with your bridesmaids and family members. Do It Yourself projects have become so popular to do at weddings, showers and parties and they add a touch of personality and charm to these special events.
For the craftier brides, putting together a simple yarn ball bouquet is a cute and inexpensive idea. Instead of having you and your bridesmaids carry flowers down the aisle, put together a few balls of yarn in your wedding colors. Stick a few pipe cleaners halfway through each ball of yarn and then you will be able to tie the pipe cleaners together (either with yarn or more pipe cleaners) to make a handle for the bouquet.
Smaller ones can be made for your bridesmaids and even your flower girl. Real flower bouquets only last for so long and unfortunately you have to throw them out after some time. They can be very expensive and might not be worth the money. With yarn bouquets, you are able to enjoy them forever and spend a lot less money.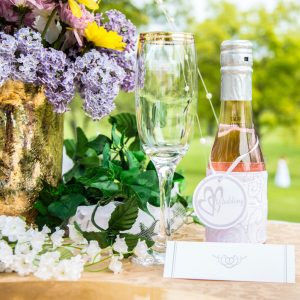 Your ceremony location should be decorated according to your theme or colors, but going overboard with flowers and sparkles can take away from the beauty of the place itself. A simple do it yourself project for your aisle can brighten your walk towards your future husband. Bust out the tissue paper! This is a great craft to do that does not take long and each one can be different from another. Tissue paper flowers are perfect to place along each side of your aisle to add a touch of your own personality and flare to your ceremony.
Another crafty project that you can embark on throughout your wedding planning has to do with your invitations. Include on your invite that when your guests return the r.s.v.p's they should also send a piece of fabric with their names, a quote or a fun picture on it.
With each piece of fabric you get, have your mom, aunt, grandmother or any friend that can sew (maybe yourself even) stitch each piece together to make a quilt for you and your new husband. Every time you see it or look at it, you will be reminded of the union of marriage and all the friends and family that were there to celebrate with you.
When it comes to your reception, decorations can be expensive. Chair covers, table cloths, centerpieces, lighting, etc adds up quickly. A cost effective alternative is to round up your girlfriends for a few wine nights, get as many empty bottles of wine you can find, wrap 3 or 4 of them together, and put flowers in them as vases for your centerpieces. This is just one more thing that will give your wedding a fun and personal touch.