Women with long hair either get frustrated trying to find an easy style or they just get bored trying to create that new look. Some great fall looks that are simple to create are what you'll find here. We've included simple step by step instructions to give yourself a new do in minutes. You can create a crimped ponytail, a great looking wave, and an up-do upgrade.
Crimped Ponytail
Items Needed to Create This Do: Texturizing spray, cool heat styling mist, smoothing cream, mini crimper, a small bobby pin, a paddle brush, and an elastic bungee or scrunchie.
Brush back hair tight and make your ponytail low, securing it with the elastic band. You can create an ultra tight ponytail by tilting your head back and looking at the ceiling while fastening your hair.
Use the smoothing cream to tame down any fly aways. You'll then want to use the protecting spray on the ponytail to prevent damage from the crimper.
Taking only about an inch wide section of hair from the ponytail, hold each piece tight, while working from the base to the ends with the crimper. You'll want to leave a section uncrimped.
Taking the uncrimped section of hair, work the styling cream through it and wrap it around the band, securing it with a small bobby pin.
Spray the paddle brush with texturizer spray and break the crimped strands apart.
That's all there is to it, for your new kind of ponytail.
Waves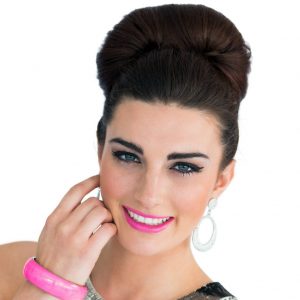 Items Needed to Create This Do: Mousse, a 1" curling iron, styling cream,
Towel dry your hair and rake mousse through it from the roots to the tips evenly.
Tuck your face-framing pieces behind your ears before blow drying your hair using only your hands not a brush.
Taking about two inch pieces of your hair, and starting a couple of inches below the root, horizontally wrap each piece around the barrel of the curling iron. Don't curl the ends!
You'll want to use the styling cream at this point. Working it between the palms and applying it only to the ends.
A good tip from the creator of this style says you shouldn't curl your hair in front of a mirror as it's more about randomly choosing sections than being technical.
Nouveau Beehive
Items Needed To Create This Do: Volumizing mousse, extra strong hold hairspray, bobby pins, styling wand, and brush.
Apply mousse to wet hair and blow-dry it before curling to create body and texture.
Starting at the crown, back-comb your roots to give your hair some height. Spray the brush not the hair.
Using your hairspray spritz your bobby pins to make them tacky. You should sweep your hair to one side and use the pins to secure it in a vertical line.
Gather and twist your hair upward against your head and slide the bobby pins vertically under the twist. Tuck your loose ends.