Treat Your Nails Like A Canvas With Elegant Touch.
If you are a strict follower of the trends like I am, you will know that nail art is a key beauty trend for Spring/Summer 2014. If you want to be on-trend and In Vogue, then a single nail shade is not going to cut the mustard – the more outrageous the nail art, the better.
Being a total fiend for colour at the minute, be it pastels or neon brights, I obviously love crazy nail art, but the chances of me being able to create anything like it with just a few bottles of nail varnish and my own hand is miracle territory. I'm limited to a single shade, and even then it can look like I have applied it blindfolded since I have very shaky hands and a low level of patience. Then you get one chip and the whole look is ruined – there must be something better.
I want something that that is easy and quick, but still has a high impact – I want other girls to eye my finger candy with jealousy. Step up Elegant Touch – for the second season they have teamed up with super hip design house, House of Holland to create a seriously fun, yet fashion forward collection of women's false nails.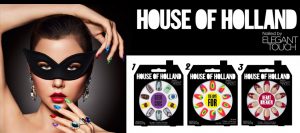 House of Holland For Elegant Touch: 1) Geek Chic; 2) To Dye For; 3) Heartbreaker.
Creative Director of House of Holland, Henry Holland was inspired by the London-girl aesthetic and her cool and confident attitude. The collection features some of the most outrageous and colourful nails I have ever seen, with like likes of Lego blocks and photographic prints. Holland says: "This nail collection is about not taking fashion too seriously – making a statement and having fun doing it."
So do Elegant Touch and House of Holland have the answer to my nail art prayers?
Getting Nailed By Elegant Touch
I have to say I was nervous about applying the House of Holland x Elegant Touch Nails as the length was longer than I have ever had before and as a false nail novice, I had never used false nails you had to glue on before. I had visions of sticking my fingers together and false nails stuck everywhere except my finger tips. But I really didn't have anything to worry about – read on for more info…
Being the perfectionist I am, I like to have everything ready to hand so I can get the job done as efficiently and quickly as possible. So here is what you will need…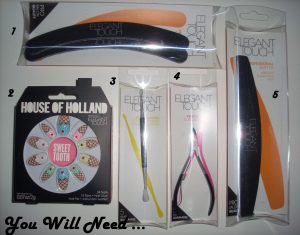 For The Elegant Touch Manicure: 1) Elegant Touch Professional Nail Files; 2) Your choice of House of Holland for Elegant Touch Nails – I went for the delicious Sweet Tooth; 3) Elegant Touch Cuticle Pusher & Nail Cleaner; 4) Elegant Touch Cuticle Nipper; 5) Elegant Touch Professional Nail Buffer.
Do the Ground Work…
You want to make sure you have the best possible surface to apply your false nails on, so that means taking some time to do a little bit of ground work. When applied correctly on properly prepared nails, these House of Holland lovelies can last for 10 days – how great is that?
Remove any and all nail varnish from your nails thoroughly.
Wash and soak hands in warm soapy water to soften the cuticles.
Push back the cuticles into the nail bed with your Elegant Touch Professional Cuticle Pusher. Any cuticle excess can be trimmed with your Elegant Touch Professional Cuticle Trimmer (all Elegant Touch Professional nail tools are available at Boots, online and in store).
Smooth away any ridges with your Elegant Touch Professional Buffer.
File down the nails to a short length, using long strokes to prevent any splitting, with your Elegant Touch Professional Nail File.
Get Ready
Now you have a lovely smooth and healthy surface to apply your nails and have a great chance of having chip-free, super stylish nails for 10 whole days. Still, it is not time to dive right in and throw glue around yet, you still have a little bit of preparation to do…
Open your House of Holland nails and read through the instructions – don't just assume you know best, that is how you end up with fingers bonded together.
Clean nails with with an acetone-based nail polish remover, to ensure that the nail is free from any moisture or natural oil that may affect the glue.
There are 10 sizes available in total, so select the right size for each nail and lay out ready to use. The thinner end is the end that will sit closer to the cuticle – in this case the tasty ice cream will sit next to the cuticle.
Get Sticking…
So now it is time for the serious stuff – the applying of the nails. You really need to concentrate and be careful as the nail glue is super sticky and can bond skin in just a few seconds. If you do get your fingers stuck together, don't force them apart or try to scrub it away with acetone or nail polish remover. Instead soak the affected area in warm water for ten minutes and prise apart gently. The Elegant Touch False Nail Remover will help to remove and dissolve any glue.
Apply a thin and even layer of the nail glue onto the entire nail, immediately wiping away any that gets onto the cuticle.
Hold the nail up to, but not touching the cuticle and apply the nail at a 45 degree angle from the cuticle.
Press down lightly on the false nail for four seconds until bonded.
The nail will bond fast very quickly so you don't need to wait too long before you can file away any rough edges. A nail file is provided in the kit, but I prefer to use my Elegant Touch Professional File as it is bigger for my clumsy hands.
If you aren't looking to wear the nails for up to 10 days, instead of applying the nails with glue, use some Elegant Touch Super Adhesive Tabs.
And Then Love…
Within around ten minutes you will have seriously fashion forward nails to make any girl jealous and there is nothing left to do but to love and enjoy them. Aren't they just good enough to eat?
How Was The Trip To The House of Holland.
Yes, I was nervous about using nail glue for the first time, but I needn't have been – the process was easy and quick and in the time it takes to wait for a single coat of nail varnish to dry, I had the outrageous nail art I was looking for. It may just be enough to convert me from nail varnish to false nails, especially for those special occasions, or just those days where you want to stand out from the crowd.
I have to say Elegant Touch have really brought out the big guns by teaming up with House of Holland – the stiletto shape nail feels so new and fresh, and with the extra length it adds a touch of glamour to those everyday looks. Although the length did take some time to get used to, once you have mastered fastening buttons with longer nails you can do it all.
I had a great weekend showing off my long nails, but sadly, I had to trim them down come Monday, when it was time to get back to the computer for work. They trimmed really easily with some good quality nail scissors and looked just as cute at the shorter length. It has now been four days of fabulous wear, with the nails feeling super secure and I have to say, I cant stop looking at them. With prices ranging from £7.99 to £8.99, you would be crazy not to give them a try.
I chose the Sweet Tooth nails as I just loved the quirky design and how the pastel shades are so on trend for Spring/Summer 2014, but the House of Holland collection is full of absolute beauties – check out some of my other must haves…
House of Holland for Elegant Touch: 1) Royal Explosion; 2) Block Heads; 3) Dotty; 4) Game Changer; 5) Glitter Face Ache; 6) Thorn In My Side.
Don't forget to check out the new Elegant Touch Express Collection for more on trend nails, from neon brights to ladylike polka dots to classic French manicures with a twist.