Come on girls, admit it! Your wardrobe is so full it is in danger of exploding all over you room in a delightful mess of flying dresses, tops and jeans, all of which you can't live without of course. If you try and cram any more pieces of clothing in there (no matter how necessary you deem them to be), the whole thing is just going to fall apart and you are going to have one heck of a mess to clean up.
Additionally, if money is tight, which it is for a lot of us, does it really make sense to splash out more money on a dress you don't really need, because you have 30 others hanging up in your wardrobe. Wouldn't that money be put to better use by saving for a fabulous holiday, so you can rock your already extensive wardrobe in another destination.
Instead, why not go for the space saving and money saving option and update your current outfits with some clever accessories.
Hair Hotness
You would be amazed how a well chosen hair accessory can totally transform a look. An oversized bow will give a great retro appeal to any outfit; a floral headband can create a Bohemian feel; a jewelled number will add some serious glamour; and a cute pair of cat's ears can transform any lady into a Harajuku girl that wouldn't be out of place on the streets of Japan.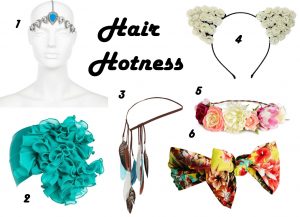 Hair Hotness: 1) Blue Gem Stone Hair Crown, River Island; 2) Ruffle Hair Turban, ASOS; 3) Feather Drop Headband, Miss Selfridge; 4) Cream Flowers Aliceband, Topshop; 5) Hair Decoration ,H&M; 6) Hawaii Print Headband ;ASOS.
Nail Art
Your nails may be small, but they are a canvas that should be utilised at every opportunity. A bright shade can give a much needed pop of colour to an outfit of muted tones and a pastel shade can give a relaxed summer vibe. Those of us who are a little more daring, can go for some outrageous nail art, either created by hand or by using some fabulous falsies can make any ensemble feel brand new.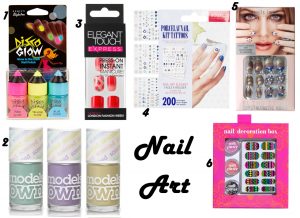 Nail Art: 1) Disco Glow Nail Varnish Set,Topshop; 2) Fruit Pastel Polishes,Models Own; 3) Express Peach Ombre Press On Nails,Elegant Touch; 4) Bourjois ASOS Exclusive Nail Tattoo Kit,ASOS; 5) Nails Inc Bling It On Swarovski Crystaltastic Nails,ASOS; 6) Nail Decoration Box,H&M.
Leg Candy
Yes the weather is getting warmer, so I am not suggesting you wrap you legs in 200 denier tights, just to get a slightly different look to your outfit. I'm talking about some serious leg decoration like some delicate lace leggings to give a 'Little House on the Prairie' appeal, or some funky decorated tights to add some edge. You may have also noticed that socks have seen a surge in popularity in recent months, with little frilled angle socks adding some school girl chic to any look.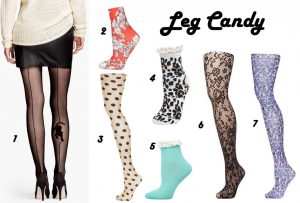 Leg Candy: 1) Patterned Tights, H&M; 2) Red Sketch Floral Pop Socks, Topshop; 3) Nude Big Polka Dot Tights, Topshop; 4) Leopard Frill Sock ,Miss Selfridge; 5) Aqua Contrast Lace Top Socks, Dorothy Perkins; 6) Oroblu Elizabeth Floral Lace Tight ,House of Fraser; 7)Blue Floral Print Tights, Topshop.
Statement Neck Wear
A statement neck accessory can totally transform your current outfit – for example an oversized pussy bow can add some geek chic or a big embellished necklace can add a touch of glamour. Be sure to check out the likes of Etsy for some fabulous detachable collars and neck pieces from talented crafters – they will really change the whole look of an outfit.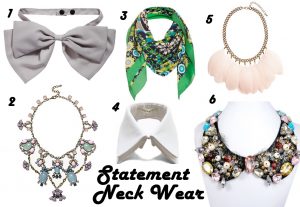 Statement Neck Wear: 1) Bow Tie, ASOS; 2) Pink Jewel Embellished Statement Necklace, River Island; 3) Morrocan Tile Print Scarf, Topshop; 4) Double Detachable Collar, Etsy; 5) Necklace With Feathers, H&M; 6) Sparkly Multi Rhinestone Peter Pan Collar Necklace, Etsy.
Huge Clutch
Handbags are much easier to store than clothing – they take up less space an you don't have to worry about getting them creased. You will be amazed how much an oversized clutch can completely change the look of a whole outfit. It takes a classic jeans and T-shirt ensemble from day to night and can add a burst of colour and style to a rather plain outfit.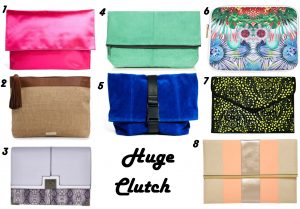 Huge Clutch: 1) Satin Foldover Clutch Bag, ASOS; 2) Leather Yute Blend Clutch, Mango; 3) Lilac Snake Panel Structured Clutch Bag, River Island; 4) Suede Embossed Snake Clutch Bag, Topshop; 5) Leather Oversized Soft Clutch Bag, ASOS; 6) Green Tropical Print Tablet Case, River Island; 7) Lagom Barbara Clutch Bag in Black and Neon Yellow, Little Black Dress; 8) Coral and Cream Stripe Clutch, Dorothy Perkins.