It may only be November, but party season is well an truly upon us. Most girls will have a packed social calendar of Christmas parties, the big day itself and New Year's Eve. The Christmas holiday season, is an excuse to really bring on the glitz and glamour, so why not try out any of these show-stopping looks…
Luscious Lace
Lace is luxurious and decadent and has a distinct Gothic feel that speaks of vintage opulence. Team ultra-feminine lace, with strong leather or chunky and edgy accessories for an on-trend look that will see you right through the winter season in style. Stick to classic black for versatile wear, or be daring with pops of vibrant colour for an eye-catching look.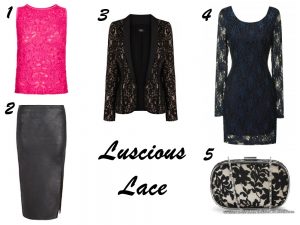 Luscious Lace: 1) Embroidered Chiffon Shell Top, Topshop; 2) Crackle Finish Leather-look Midi Skirt, New Look; 3) Lace Tux Jacket, Oasis @ House of Fraser; 4) Navy Lace Overlay Dress, Glamorous; 5) Lace Clutch Bag, Laura Ashley.
Velvet Vixen
It might be something you remember your mum wearing in the early '90s, but plush velvet is a big trend for the Autumn/Winter season. Avoid looking a little too 'Halloween', buy sticking to luxurious gemstone shades and avoiding vampish make-up. Keep accessories simple – over loading such a rich fabric with accessories will end up looking overly fussy.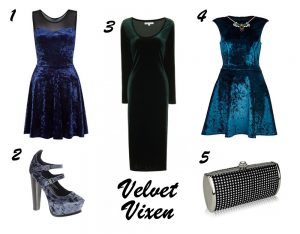 Velvet Vixen: 1) Blue Mesh Insert Velvet Dress, New Look; 2) Messeca Sophie Velvet Shoes, ASOS; 3) Dark Green Velvet Mini Dress, Glamorous; 4) Velvet Necklace Prom Dress, River Island, 5) Sparkly Evening Clutch Bag, Aubina.
Beautiful Baroque
For an extra touch of luxury this holiday season, choose baroque fabrics – with their rich embroidery and intricate patterns, any baroque piece is sure to draw attention and envy. With such heavy detailing, it is important to keep any accessories to a minimum to avoid a look that is over-the-top.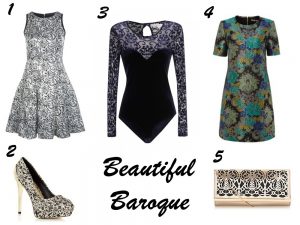 Beautiful Baroque: 1) Gold Rose Print Jacquard Dress, Miss Selfridge; 2) Baroque Metal Heel Court Shoes, New Look; 3) Dark Blue Velvet Sweetheart Bodysuit, Glamorous; 4) Floral Jacquard Dress, Biba at House of Fraser; 5) Metallic Baroque Cutwork Clutch, New Look.
Marvellous Metallics
Metallics are an evergreen trend that will prove to be popular, season after season, so any metallic piece you buy is sure to be a good wardrobe investment. Go for full on glitz, by wearing metallics from head-to-toe and super shiny sequins; or go for a more subtle take on the trend with metallics accessories. Team the look with a metallic nails and eyes for an extra sheen.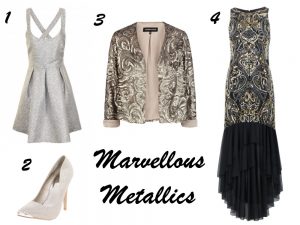 Marvellous Metallics: 1) Metallic Jacquard Skater Dress, Glamorous; 2) Tara Metallic Insert Shimmer Heels, Boohoo; 3) Swirl Sequin Jacket, Warehouse; 4) Beaded Fishtail maxi Dress, Miss Selfridge.
Brilliant Berries
For those of you out there, who aren't into shiny sequins and metallics or the overt decadence of baroque fabrics, stay on trend with brilliant berry shades. The deep, rich colours still have a feeling of luxury without being too much. An added bonus is that berry shades are appropriate for all year round wear. Just change up the shoes and the accessories and you'll have a great little ensemble for the summer season.
Brilliant Berries: 1) Satin Dress, H&M; 2) PU Panel Detail Dress, Dorothy Perkins; 3) Dark Red Wrap Front Belted Jumpsuit, River Island; 4) Lace Peplum Top, Next; 5) Aubergine Leigh Jeans, Topshop.