The printed tee is a wardrobe staple for any girl – easy to pull on and be on your way a printed tee is an all time classic. But, you probably think that it isn't all that versatile,; you can pop it on with a pair of jeans and that's about it, right? Wrong! The printed tee is way more versatile than you know, with such a huge variation in prints and styles, there really is a tee for any girl and any situation. Check out some of my favourite ways to wear the printed tee.
Hitting The Gym
Just because you are going to the gym, doesn't mean that you have to leave style and good taste at home. You can still look good in the gym, by wearing a cool printed tee over your sports bra, just don't do your hair too perfect or wear lashings of make-up – there is such a thing as trying too hard.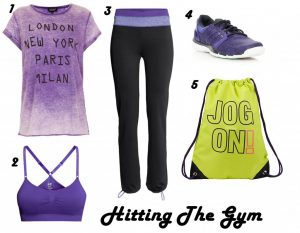 Hitting the Gym: 1) Cities Tee, Topshop; 2) Sport Bra, H&M; 3) Sports Trousers, H&M; 4) Adidas 'Adipure 360' Trainers, Debenhams; 5) Jog On Gymsack, John Lewis.
Festival Chic
Festival season still may be a few months away, but that doesn't mean you can't start preparing your festival look. This particular style is suited for more than just the festival fields, it can be worn throughout the warmer months, and the wellies are sure to come in handy with all those rainy days. Keep the look casual and playful with cute denim shorts and a statement messenger bag, and don't forget the festival staple, a khaki parka.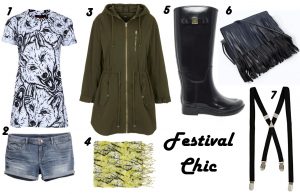 Festival Chic: Rum Knuckles Wolf T-Shirt, USC; 2) Denim Shorts, H&M; 3) Lightweight Khaki Parka, Topshop; 4) Yellow Texture Scarf, Warehouse; 5) Ted Baker Scara Black Wellington Boots, ASOS; 6) Leather Messenger Bag With Fringing, Zara; 7) Black Braces, River Island.
Office Appropriate
You may think that the printed tee could never be smart enough for the office, that you will just stick with the classic button down shirt to be safe. Don't cut yourself off from a little bit of expression in your work wear wardrobe – you can keep the look smart and chic by choosing a tee in a good quality fabric and a stylish print. Florals work particularly well with check and tailoring.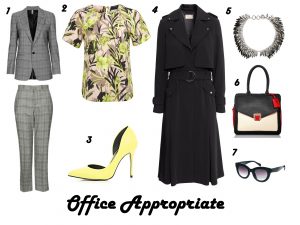 Office Appropriate: 1) Modern Tailoring Check Jacket and Trousers, Topshop; 2) Floral Palm Tee, Miss Selfridge; 3) Yellow Cut-Out Side Court, River Island; 4) Trenchcoat, H&M; 5) French Connection Leafy Peter Pan Collar Necklace, ASOS; 6) Raspberry Envelope Clutch, Next; 7) Chunky Cat Eye Sunglasses, ASOS.
Night Out
The printed tee can absolutely be worn for a night out, and not a just a casual one, but a full on glam night out on the town. Team a cute slogan tee with a full tulle skirt, for a look that Sex and the City's Carrie Bradshaw would be proud off. Tuck the tee into a skirt worn high on the waist and add a gorgeous waisted belt to add extra definition to your curves.
Night Out: 1) Dressed To The No.9s Print -Shirt, River Island; 2) Blush Midi Tulle Skirt, Topshop; 3) Full Metal Waist Belt, ASOS; 4) Carvela Astro High Heel Court Shoes, Debenhams; 5) Therapy Jenna Clutch Bag, House of Fraser,; 6) Nail and Lip Paint, Barry M; 7) Nude Textured Biker, Dorothy Perkins.
The Classic Way
Of course, there is nothing wrong in wearing your printed tee in the classic way, with a good pair of jeans and comfortable shoes. We all need some casual pieces in our wardrobe to create the perfect off duty style looks. To take the look from day to night, swap the comfy shoes for a pair of killer heels and the practical bag for a elegant clutch.
The Classic Way: 1) Tropical Print Oversized T-Shirt, River Island; 2) Last Dance Pointed Ballet Flats, ASOS; 3) Super Skinny Jeans, H&M; 4) Leather Bomber Jacket, Mango; 5) Chain Strap Slouch Bag, New Look; 6) Turn Up Beanie, Topshop; 7) At Republic 4 Pack Of Rings, USC; 8) Beetlejuice Aqua Violet Nail Polish, Models Own.