Once upon a time (i.e. the '90s) the only teen move a girl watch was the Alicia Silverstone classic, 'Clueless' where rich, yet sweet, high school student Cher, tries to boost the popularity of new pupil Tai, played by a young Brittany Murphy. But, things all changed in 2004 when a a little movie called 'Mean Girls' was released, staring Hollywood sweetheart Lindsay Lohan.
In the film Lindsay plays new student Cady, who is soon poached by the popular girls, 'The Plastics' to become their new member. Unfortunately, Cady finds herself falling for the ex-boyfriend of head Plastic, Regina, which results in her receiving the full wrath of a scorned teenage b**ch. It's catty, funny and oh so satisfying when Cady embraces who she really is at the end.
It is the ten year anniversary of this iconic teen movie this week, so what better way to celebrate it that to celebrate the style of the 'Plastics', but given a contemporary twist to fit in with the fashion trends of 2014. You could look "totally fetch".
Cady Heron aka Lindsay Lohan
New student Cady Heron would be so on trend for the Spring/Summer 2014 season for her love of mixing pastel shades together. By just modifying a few of the silhouettes and ditching the over-the-top designer logo bag and clashing tulle netting on the skirt and you have a contemporary and on-trend look that still rings true to Cady's style.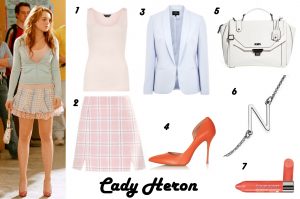 The Cady Heron Style: Pink Scoop Vest, Dorothy Perkins; 2) Pink Check Notch Mini Skirt, New Look; 3) Tailored Blazer, Matalan; 4) Leather High Heel Courts by Kurt Geiger, Topshop; 5) Faith Snake Panel Winger Grab, ASOS; 6) Silver Side Initial Necklace, My Name Necklace; 7) Bourjois Colour Boost Lipstick in Orange Punch, ASOS.
Regina George aka Rachel McAdams
Queen of the 'Plastics' Regina George is a girl who demands style from her protégés and leads buy example. A fan of the slogan tee and preppy shirts she was the class style icon, but also the class b***h and a bit of a bully. So to pull off her look, you need to have plenty of attitude – yes, you're seriously overdressed for the occasion, but you don't care because everyone is looking at you.
Choose a tee with a quirky slogan and don't be afraid of showing a little (or a lot) of leg and you have Regina's style nailed – just don't forget the glowing skin and perfect manicure. But remember, just because you are styling like a b***h, doesn't mean you have to be one.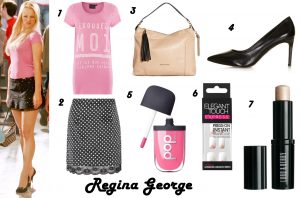 The Regina George Style: 1) Getuz Short Sleeve Excusez Moi T-Shirt, House of Fraser; 2) Black Polka Dot Lace Hem Skirt, New Look; 3) River Island Slouch Bag, ASOS; 4) Golden Box Pointed Mid Shoes, Topshop; 5) POP Plump Pout in Fuchsia Freesia, ASOS; 6) French Triangle byElegant Touch Express; 7) Lord & Berry Luminizer Stick, ASOS.
Karen Smith aka Amanda Seyfried
Karen is the saucy one of the group and although she is your typical airhead type, she isn't your typical 'Mean Girl', she just goes along with the rest of the 'Plastics'. As a fun and flirty girl, to nail Karen's style you have to have plenty of confidence and not be afraid of showing some skin. Heart prints are seriously popular for the Spring/Summer 2014 season, so embrace them, be it in cute mini skirts, dresses, shorts and floaty shirts.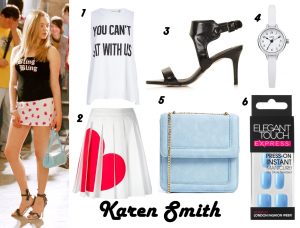 The Karen Smith Style: 1) You Can't Sit With Us Print Tank, River Island; 2) Love Moschino Heart Print Pleated Skirt, Far Fetch; 3) Naked Back Buckle Mid Shoes, Topshop; 4) White Skinny Leather Strap Watch, Oasis;  5) Cross Body Bag With Sleek Curb Chain, ASOS; 6) Express Pastel Blue Nails, Elegant Touch.
Gretchen Wieners aka Lacey Chabert
Gretchen in the print lover of the group, often seen in playful paisley or a Burberry tweed. Although she is a follower rather than a leader, she has her own distinct style, which is more ladylike than the other 'Plastics'. For Gretchen's Spring/Summer 2014 look, choose a paisley summer or checked dress and matching accessories, for an ensemble that is chic and elegant. Paisley is on-trend for the season, but the halter neck style dress is not, so choose a more contemporary silhouette to stay up-to-date.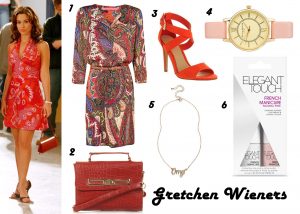 The Gretchen Wieners Style: 1) Mango Paisley Print Dress, John Lewis; 2) Smart Croc Crossbody, Topshop; 3) Office Je T'aime Stiletto Strappy Heels, House of Fraser; 4) Olivia Burton Wonderland Pink Watch, ASOS; 5) Gold Tone OMG Necklace, River Island; 6) Natural Pink French Manicure Polishes, Elegant Touch.
Janis Ian aka Lizzy Caplan
Non-conformist Janis is the anti-plastic and a slight nerd/goth. She may be completely different from the 'Plastics' but she knows who she is and doesn't try to be anything else because she thinks it will make her popular. I can certainly relate to the misfit and her personal grunge style that says 'I don't care what anyone thinks'. Go Janis! Just ditch the heavy combat trousers for some grungy shorts for the perfect summer style.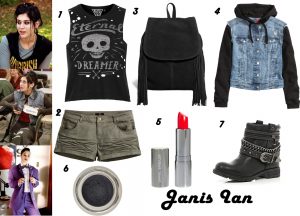 The Janis Ian Style: 1) Eternal Dreamer Tank Top, Topshop; 2) Short Twill Shorts, H&M; 3) Suede Big Backpack With Fringing, ASOS; 4) Hooded Denim Jacket, H&M; 5) Daniel Sandler Micro-Bubble Lipstick, ASOS; 6) Eye Gleam in Noir, Topshop; 7) Wrapped Chain Strap Military Boots, River Island.