[tps_header]Bathroom problems happen now and then. Tiles can break, faucets need changing and work needs doing. The problem is they can really eat into your family budget; and you may not even have the finances for it. Here are some quick and affordable fixes for your bathroom.[/tps_header]
Brighten Your Tiles Instead of Redecorating
If you don't have the money to redecorate, look into brightening up your tiles. You'll be surprised by the amount of dirt and grime that can get within them and on them. It really doesn't matter how often you clean them with regular products. Pick up an acid based cleaner or make your own and really scrub inside those gaps.
Re-glaze Your Bathroom
Replacing bathtubs and basins costs a lot of money, but is often a necessity to keep your bathroom up to date and pleasant. Instead of replacing, look into re-glazing the items instead. This can work with the majority of suite materials.
Replace the Toilet Seat Cover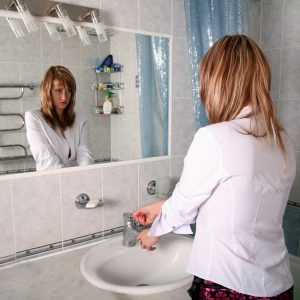 Instead of replacing the whole suite, look at the little things that you can change. The toilet seat, faucets and shower head are just some of the options available. You'll be surprised at the new lease on life your bathroom will get when you replace just the smallest of things. There are plenty of budget friendly options available too.
Add a New Mirror or a Frame
Update your mirror and bring in more light. If you don't already have one, think about framed mirrors. If you do have one that doesn't need replacing yet, look into frames for it. You can make your own frame to suit the style of your bathroom, such as with shells, cast iron additions and even fabric materials.
Paint It in a Bright Colour
If you can afford a little redecoration, consider repainting your bathroom. Choose a light colour to help bring in more light. Neutral whites, creams and beiges are excellent options, but a sunny yellow could also be great. While you want it to be bright, you also need to think about the atmosphere and style that you want to bring across in your room.
Repurpose Your Old Furniture
Are you thinking about getting rid of cabinets or shelves from other parts of your home? Consider repurposing them for your bathroom. You could have a table for all your hair products and the mirror or add a new shelf for your toothbrush. You could even opt for a small cabinet for the wall that becomes your medicine cabinet. Sand items down and re-varnish them if you need to.
Choose a Cheaper Flooring Option
If your flooring needs to be replaced, you can keep the cost down by choosing a cheaper floor option. Vinyl is your best option, but there are others like lino and fake wood. Think about the room for the one that will work best, including style and the humidity in the room. Don't hire someone to lay it. Take the time to do it yourself.