Elegant garden framed by woods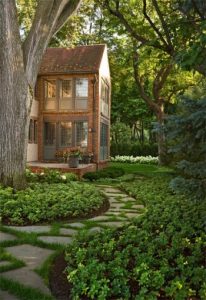 Just like a fairy tale, a meandering trail crossing the ancient garden. Lush greenery in the cool shade of woods – this modern villa is close to the nature.
The sidewalk made of pieces with grass growing in it makes the scene intimate and less sophisticated.
Modern garden and terrace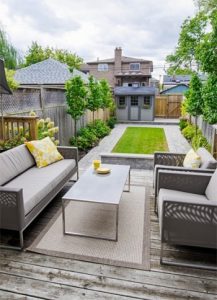 Modern minimalist outdoor furniture undoubtedly makes your terrace comfortable and luxurious.
The garden is simple-designed: well-kept lawns bordered with stone slabs, and edges of evergreen shrubs are planted among thujas.
Kitchenette on the terrace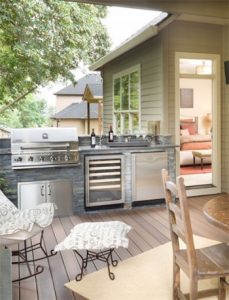 For huge grill parties it is worth to create a mini-kitchen on our terrace, with professional barbecue and comfortable garden furniture.
Carpets and textiles make the roofed terrace cozier.
Outdoor terrace furniture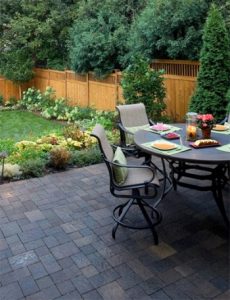 Small gardens neither are boring, if they are configured appropriately. The paved terrace with outdoor furniture make your time there comfortable and pleasurable.
Consider a well-kept lawn garden area, surrounded by flowers.
Cozy sidewalk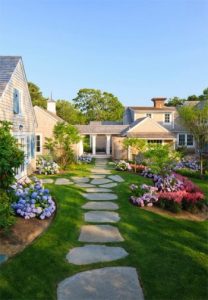 A fairy garden with stone studded pavement sheets, cheerful flower beds and trees. The courtyard leads to the entrance of each charming sidewalk.
The people living here feel like being on vacation. Isn't it great?
Minimal terrace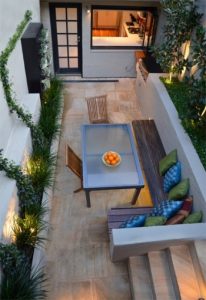 Small terraces can be great, either with family houses or flats. Just make sure it is designed well.
The terrace is tiled, the surrounding walls are painted white Mediterranean style, the length of the terrace gives space to sunken flower beds with concealed lighting. Simple, modern outdoor furniture matches this style.
Roofed terrace with swing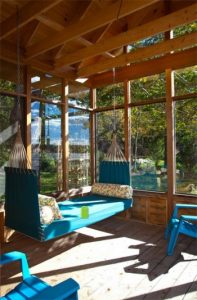 No need to hide the frame of the covered terrace. They are not only decorative, but also have some benefits if you hang a nice swing on it.
Enjoy the calm closeness of the nature without wind at a place where you can relax after a busy day.
Colorful flower pots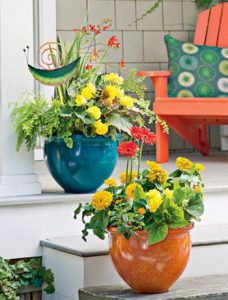 There is no balcony or terrace, which did not show better with colorful flowerpots, which are giving home to your favorite plants.
Put them on shelves, stairs, window sills or even suspend them!
Mediterranean terrace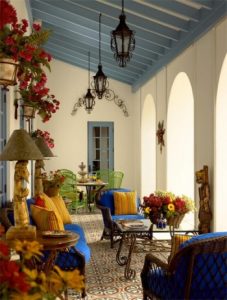 This Mediterranean-style covered terrace a piece of art. Note the arches, the blue and white finishes, the vibrant sunshine yellow fabrics and the quality furniture!
The curved iron and wicker details and gilt decorations make it really elegant.
Eclectic corner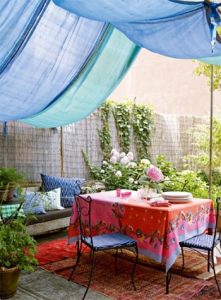 This little Asian-influenced eclectic terrace invites for a carefree vacation. Bamboo fence covered with ivy, baldachin-like covering, colorful pillows, brightly colored carpets ensure vibrant atmosphere.
It's not a regular, modern or restrained – confusion creates a kind of balance!