Planning a wedding takes months. For just 24 hours, you could spend 365 days finding the perfect venue, picking your bridesmaids and getting their dresses fitted, finding your own perfect dress and then there are the invitations and decorations to sort out! The good news is that there are websites around that can help you. Here are some of the top websites.
Confetti.co.uk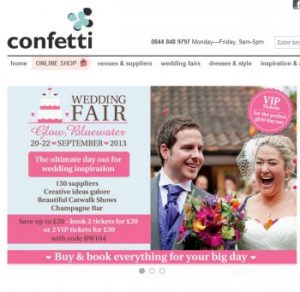 This UK-based company is full of great ideas for wedding favours, decorations and gifts for the bridesmaids.
There are special deals on a regular basis, whether you buy in bulk or need something within a short space of time. The website also has a blog with tips for planning the perfect wedding.