Switch to Flats Every Now and Then
There is nothing wrong with wearing flat shoes. In fact, they can be quite comfortable and stylish.
There are plenty of ballerina pumps that work with office clothes or for the night out. They also come in different colours to put your own style into the mix.
Photo: guess.eu
Getting Used to Flat Shoes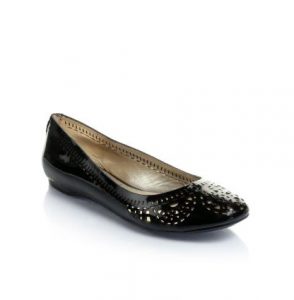 If you wear heels on a regular basis, flat shoes can be very uncomfortable.
Your Achilles tendon will be much shorter than those who wear flat shoes on a regular basis and will stretch after you switch.
Ease your way into flat shoes by gradually lowering the heel. If you still have a problem, consider court shoes, which have a two inch heel.
In fact, these heels are great if you regularly wear flat shoes since they take some of the strain off!
Photo: asos.com
Look for Heels with a Platform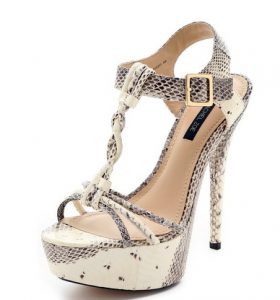 Many high heeled shoes now come with a platform at the front. These are great since they take away some of the height experienced on your heels and ease your calf muscles a little.
They can also be more comfortable for the balls of your feet since you can't feel the ground beneath. Look out for these types of shoes the next time you go shopping instead of jumping straight for the stiletto.
Photo: shopbop.com
Wear Rounded Toe Shoes
Pointed toes may look great but they squeeze the front of your feet. Instead, buy shoes with rounded fronts.
These work with your natural shape of your feet and will help to avoid bunions and ingrown toenails.
Photo: shoebuy.com
Make Sure the Shoes Fit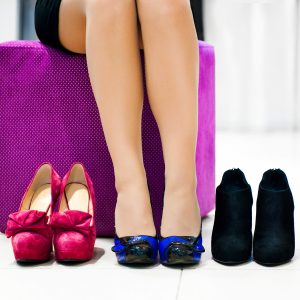 Shoes that are too small damage your feet by squishing them. Shoes that are too big cause problems for your whole body as you change the way you walk to keep them on your feet.
Try the shoes on before you buy and make sure they fit comfortably. There's no point spending money on something that you'll hate after a few wears.
Take Them Off Regularly
High heels ruin your posture. They force your centre of gravity to shift forward and this can put your back, neck and hips out of place.
Poor alignment and posture is a major reason for back pains. Take your shoes off regularly, even while under the desk to give your feet and posture a rest.
Learn to Walk in Heels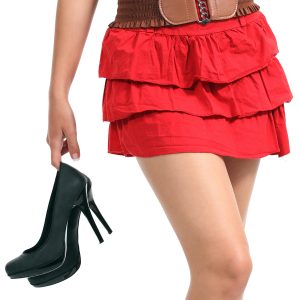 Not everyone walks very well when wearing high heels. This is because they can't figure out how to change their posture and centre of gravity to work for them.
Practise walking in your heels. This will stop people talking about you and will help to prevent your spine and neck getting too out of line.