Fearne Cotton For Very
Television presenter Fearne Cotton has been working with Very for a few years and her design skills have improved season after season. As one of Britain's biggest style icons, fashionistas can get a taster of her style with her seasonal collections with the online retailer. The collection is full of girly and feminine pieces, given a cool and quirky edge – a must have for any wardrobe.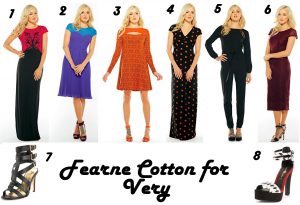 Fearne Cotton for Very: 1) Colour Blocked Pattern Maxi Dress; 2) Pleated Skirt Occasion Dress; 3) Peek-A-Boo Swing Dress; 4) Underbust Seam Maxi Dress; 5) Lace Insert Jumpsuit; 6) Midi Length Lace Dress; 7) Leanne Strappy Gladiator Sandals; 8) Goddard Ankle Strap Print Platform Sandals.
Kelly Brook For New Look
Kelly Brook is arguably one of the World's most beautiful women, known for flaunting her amazing curves, showing women everywhere that you don't have to be a size 0 to be sexy. She has been creating capsule collections for New Look for a few years now, full of girly dresses and separates that celebrate her bombshell style. This season she has created an amazing collection of lingerie and swimwear, which will make any girl feel sexy – you certainly wont be reaching for a cover-up.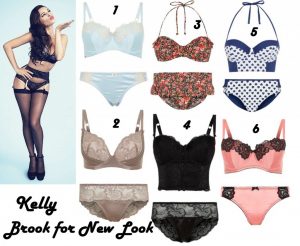 Kelly Brook for New Look: 1) Light Blue Lace Satin Balcony Bra and Sateen Thong; 2) Brown Lace Vintage Push Up Bra and Brazilian Briefs; 3) Ditsy Floral Frill Trim Bikini and Bikini Bottoms; 4) Black Lace Bow Front Longline Bra and High Rise Briefs; 5) White Contrast Trim Heart Print Long Line Bikini Top and Bikini Bottoms; 6) Pink Lace Edge Balconette Bra and Lace Edge Thong.
The Kardashians for Lipsy
Kim Kardashian has overtaken Jennifer Lopez as having the most famous booty in Hollywood and she sure does know how the make the best of it. So it makes sense that she would branch out into fashion design at some point – she has joined forces with her stylish sisters Khloe and Kourtney to create the Kardashian Kollection for Lipsy. The premium line draws on the three sisters individual style to create a collection that emphasises a feminine silhouette.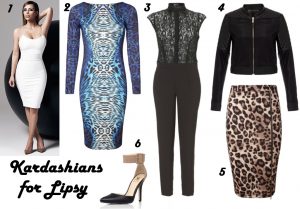 Kardashian Kollection for Lipsy: 1) Bodycon Midi Dress; 2) Animal Print Bodycon Dress; 3) Lace Top Jumpsuit; 4) Quilted PU Biker Jacket; 5) Animal Print Zip Pencil Skirt; 6) Payge Pointed Court Shoes.
Nicole Scherzinger for Missguided
Nicole Scherzinger has been wowing the world with her signature style for many years now so it really was only a matter of time before she created a collection of her own. The singer joined forced with online retailer Missguided to create a capsule collection in a super chic colour palette of black, white and cobalt blue. Sexy and sleek, the collection is full of bold pieces that must be worn with the same confidence Nicole would.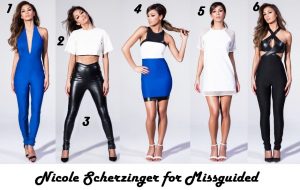 Nicole Scherzinger for Missguided: 1) Halterneck Jumpsuit in Cobalt Blue; 2) Faux Leather Crop Top in White; 3) Faux Leather Biker Leggings in Black; 4) Colour Block Bodycon Mini Dress in Cobalt Blue; 5) Shift Dress With Fishnet Panel in White; 6) Faux Leather Cut Out Jumpsuit.
Kate Moss For Topshop
Hold on to your hats fashion lovers, it has finally happened, Kate Moss is back for Topshop – could there be better news? However, the bad news is that it is not released until the 30th of April, so make sure to be standing by your computers at midnight on the 29th to grab yourself a little piece of Kate before the inevitable sell out. The collection is as amazing as expected and inspired by her own vintage wardrobe and iconic pieces from her own style history…is it the 30th yet?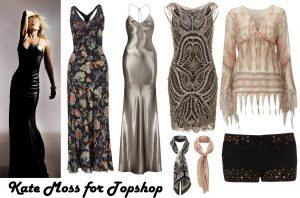 Kate Moss for Topshop: Although it is not available until the 30th of April, you can keep up to date with all things Kate on the Topshop website.