Bermuda Shorts
Sometimes referred to as walking shorts or dress shorts, Bermuda shorts have made a comeback for the summer of 2013.
Bermuda shorts look great on most body types, and you don't have worry about them "riding" up or showing too much skin. The shorts are perfect for wearing to outdoor family-friendly events.
Bermuda shorts come in a variety of styles, but the hem generally ends just above the knee. Both chic and flattering; Bermuda shorts are a must-have!
Sandals:  wallis.co.uk
Rings: modcloth.com
Bermuda shorts: riverisland.com
Handbag: forzieri.com
Top: topshop.com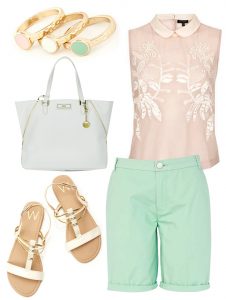 Playful Fringes
Subtle fringes on bathing suits and handbags have been on-trend for awhile now, but if you really want to push the fashion envelope; try a full-length fringe down the front of a top, skirt or dress.
Fringes made of leather have a bohemian vibe, while silk and similar types of fringes look as though they were inspired by the Great Gatsby.
Versace, Nina Ricci and Donna Karan are just some of the high end designers who showcased fringed garments on the summer runways.
Top: forever21.com
Shorts: net-a-porter-com
Necklace: baublebar.com
Shoes: boohoo.com
Cut Outs
Fashion week runways as well as on reality TV shows like Project Runway (US) and Fashion Star have used cut outs on dresses and tops to draw attention to certain parts of the woman's body.
Unexpected cut outs at the sides will make you look slimmer, while cut outs at the back will add an element of interest.
Since cut outs allow the air to circulate more freely, they're also great to wear during those scorching hot summer days.
Bracelet: simplysoles.com
Earrings: modcloth.com
Dress: owntherunway.com
Shoes: modcloth.com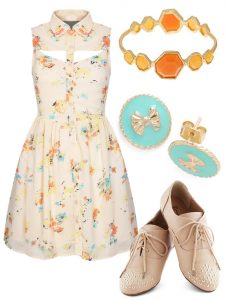 Faux Leather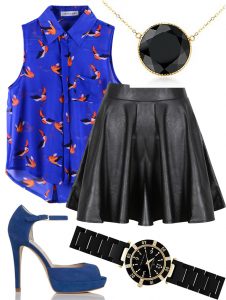 No longer is faux leather a considered a fabric that should only be worn during the winter and fall!
Faux leather made multiple appearances on the spring and summer runways in 2013. Everything from skirts and dresses, to bomber jackets and shorts are being produced for warmer weather.
Pair faux leather garments with lighter fabrics like cotton or chiffon, to keep cool and look stylish. One basic faux leather item can be styled many ways.
Necklace: bluenile.com
Sandals: lkbennett.com
Watch: macys.com
Shirt: aliexpress.com
Skirt: owntherunway.com
Statement Sunglasses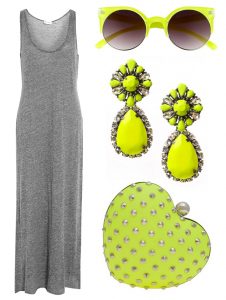 Nothing says "summer" quite like a pair of sunglasses! On the runways this season, designers worldwide have used statement sunglasses as a way to punch up summer outfits.
Sunglasses in bright colors, unique shapes, and with crazy fixtures (studs, pearls, crystals and more!) can show off your personality, while protecting your eyes from the sun's harmful UV rays.
Many a-list celebrities have been spotted rocking avant garde sunglasses this summer, proving that statement sunglasses are an accessory that works both on and off the runway.
Sunglasses: nordstrom.com
Clutch: awear.com
Earrings: valerydemure.com
Dress: my-wardrobe.com