I think it is save to say that any hope of an Indian summer is long gone and it it time to get used to the fact that we have a long cold winter ahead of us. Months of that awful misty rain that chills you to the bone hours after you are dry; months of freezing gale force winds that guarantee bad hair days; and months of icy pavements that make the morning commute a treacherous affair.
However, don't get too down, there are so many things to look forward too – Christmas is just around the corner and there are many cosy winter night to be had, under a fluffy blanket, with a cup of streaming hot chocolate and a good book. Not to mention, great winter fashions – wrapping up warm, does not have to mean frumpy layers. Just check out these gorgeous jumpers that are just perfect for seeing the winter through in style…
Patterned
You don't need to leave vibrant prints behind, just because summer is long gone. Vibrantly printed knitwear is a great way to add colour to your winter wardrobe, and those grey winter days. Popular prints in knitwear this winter season are aztec, geometric, floral, tartan and animal prints.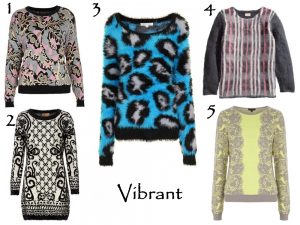 Vibrant Winter Jumpers: 1) Knitted Quilted Floral Jumper, Topshop; 2) Black Fluffy Baroque Jumper, New Look; 3) Fluffy Leopard Jumper, Glamorous; 4) Knitted Jumper, H&M; Bright Placement Pattern Jumper, Warehouse.
Pastel
Winter is usually associated with a dark palette – tones of grey and black, with hints of midnight blue, berry shades and jewel colours. But, for winter 2013-14 things have been turned on their head, and it is the pastel shades of spring that are the popular colours. Think powder blues, bubblegum pinks, lemon yellows, mint greens and soft creams.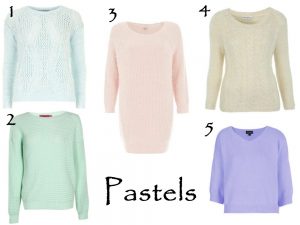 Pastel Winter Jumpers: 1) Blue Textured Knit, Dorothy Perkins; 2) Annie Oversized Vintage Jumper, Boohoo; 3) Pink Fluffy Knitted Dress, River Island; 4) Fluffy Cable Jumper, Miss Selfridge; 5) Knitted Fluffy V Neck Jumper, Topshop.
Fisherman
Get ready to hit the high seas this winter, with some super cosy, fisherman-style knits. Characterised by their wide-ribbed textures, high neck and oversize style, the fisherman knit is a key trend for the winter season. Wear with a crisp white shirt underneath and a pair off faux leather trousers for a sophisticated, yet casual look.
Fisherman Winter Jumpers: 1) Funnel Neck Jumper, Warehouse; 2) Ayla Crop Fisherman Jumper, Boohoo; 3) Slub Knit Contrast Trim Jumper, River Island; 4) Oatmeal Cable Peplum Knit, Mint Velvet at House of Fraser; 5) Cable Boxy Jumper, Topshop.
Ombre
The ombre look has been a key hair trend for the past twelve months, which involves dying the tips of the hair a lighter shade to the rest of the hair. The dip dye trend has made it's way into the fashion world, with it being particularly popular in knitwear, coming in all colours and style variations.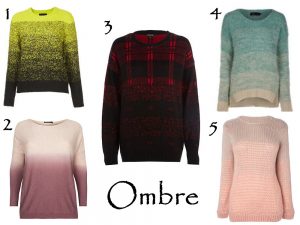 Ombre Winter Jumpers: 1) Knitted Ombre Jumper, Topshop; 2) Ombre Dip Dye Oversize Jumper, New Look; 3) Red Check Brushed Ombre Jumper, River Island; 4) At Republic Ombre Jumper, USC; 5) Pink Twist Long Sleeve Ombre Jumper, BHS.
Novelty
You can't talk about winter jumpers, without mentioning novelty Christmas jumpers. They need little explanation – they are fun and quirky and add a little bit of fun to the holiday season.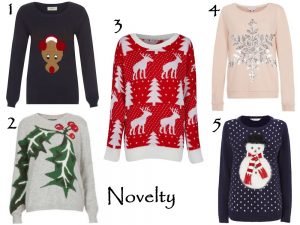 Novelty Winter Jumpers: Christmas Knit Jumper, Matalan; 2) Knitted Holly Jumper, Topshop; 3) Glamorous Reindeer Tree Jumper, USC; 4) Sequin Snowflake Sweater, New Look; 5) Snowman Christmas Jumper, BHS.