In this day and age, couples often decide to dress up in costumes for Halloween. However, finding the right costume can be a chore, and sometimes couples do not dress up because they could not find the best costume. Here are 7 ideas for couples to dress up as costumes that are not conventional, but can make dressing up for Halloween even more fun.
Jack and Sally: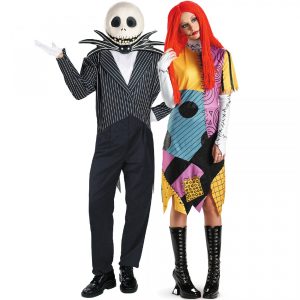 The movie, The Nightmare Before Christmas, is now considered a classic. The two main characters who are in love are Jack Skellington and Sally, and a couple who wants an unusual and fun Halloween costume can dress up as two memorable characters from a cult classic.
Photo: couplescostumes.com
Salt and Pepper shakers: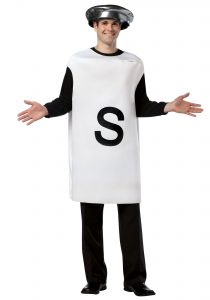 A simple yet clever costume for couples is to dress up as salt and pepper shakers.
One person can dress in white, the other in black, and the P and S can be put on the t-shirts in any number of ways as long as they are clear.
Photo: halloweencostumes.com
Iron Man and Pepper Potts: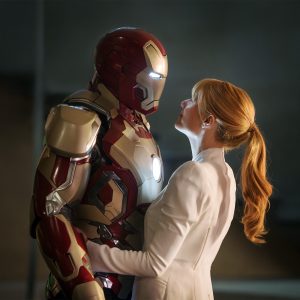 Iron Man costumes are sure to be popular this year, and teamed up with Pepper Potts, it naturally seems like the perfect costume for this year.
A woman can just wear a red wig and her best business suit, and she will make the perfect partner to Tony Stark.
Photo: lylesmoviefiles.com
Ketchup and Mustard: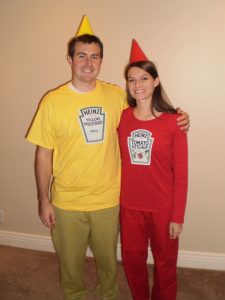 Ketchup and mustard go together, so they are the perfect choice for couples. If the couple of lacking in money for the real costume with the cone hats, then a simple red shirt and yellow shirt will do just as well.
Photo: jamccoy.blogspot.com
Peanut butter and Jelly: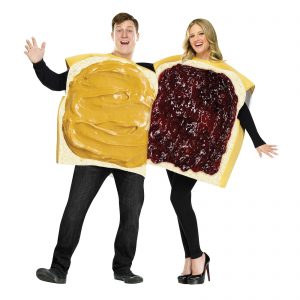 Another natural pairing is peanut butter and jelly, and another great choice for couples who want to dress up. Couples have the choice of dressing up as the jars of peanut butter and jelly or they can decide to be two halves of a peanut butter and jelly sandwich.
If couples are not able to find the jars or the sandwich costume, they can easily create their own jars with things like poster board. The white poster board hung around their neck like a sandwich board can be colored brown for peanut butter or purple to represent jelly.
Photo: buycostumes.com
Bacon and Egg: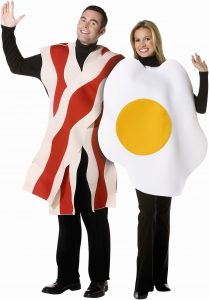 Breakfast is an important meal of the day, and a couple can display their love of breakfast by dressing up as a slice of bacon and an egg over easy.
This is a popular couple's costume, and it can be found in any number of costume stores or even online.
Photo: buycostumes.com
A King and Queen: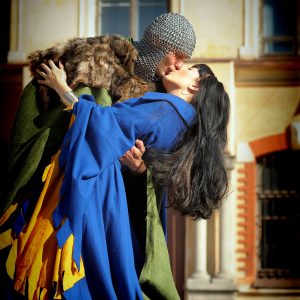 Again using poster board with the right decorations, a couple can wear them around their necks and be a King and Queen from a deck of cards.
The poster board can be decorated with a printed image from a scanned card that is blown up, or couples with any drawing talent can be hand drawn onto the cardboard.
Couples can enjoy Halloween as much as kids by dressing up in any number of costumes that go together. Though no matter which costumes a couple chooses to dress up as, the holiday can be a lot of fun.