Animal prints are all the rage at the moment. They're great fun and you can play with your girly side. There are many different clothes and accessories with zebra, leopard and other animal prints, whether you need shoes, handbags or full outfits. It is possible to go over the top though. Here are some tips on wearing animal prints so you look good.
Stick to One Animal Print
Don't mix and match your prints in one outfit. You want to opt for one and stick to it. If you choose a zebra top, don't mix it with leopard shoes! It will look odd and they both just clash. You will stand out but definitely not for the right reasons.
Avoid Too Much Print in One Outfit
The leopard dress, shoes and handbag are a little bit—well, a lot—too much. You don't need to dress from head to toe in the prints. Opt for one or two items and stick to plain colours, that match your prints, for the rest of your items. For example, have black shoes to go with that leopard dress or a pair of white jeans to match your zebra handbag and heels.
Black Makes Your Animal Print Stand Out
Black is a great colour for animal print—most print will have the colour in it so there is little chance of clashing. Focus on using this to balance out your print. The best part is that it will make the printed parts stand out really easily. For example, that leopard belt will look great with those black jeans.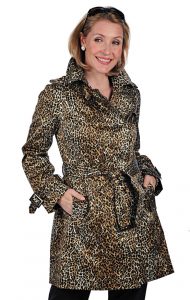 There's Nothing Wrong with Experimenting
Just because you're told not to do something doesn't mean you can't experiment. Spend some time in front of a mirror trying out different styles with your prints. There are so many combinations and they can look good when worn in the right way. The only way you will know if they look good on you is to try them out.
Use One Item to Really Draw Attention
A zebra scarf without any other animal print will really draw attention to that part of your body. Use it to your advantage to draw attention to a certain part of your body—or away from another part. It doesn't matter which part of your body you prefer; there is always something to use to your advantage.
Where Vintage Makeup
Vintage makeup is a great way to make your animal prints stand out. The only time you may want to try something different is if your animal prints are in alternate colours. When this happens, you could try out a makeup style in those alternate colours to match.
Add It to Your Hair
You don't have to wear your animal print on your body. You could add it to your hair. Try a different hairstyle with a scarf or use some animal print clips and hair ties. You will soon come up with some great ideas for casual and special occasions.