There are many different ways to improve the overall look and feel of your home, but small details can go a long way. If your dining room table is in need of a major makeover, you can create the perfect atmosphere for a diner party, by simply learning how to set the perfect table. You don't have to be refined or use five forks, to know how to properly set a table. Just follow these simple tips and tricks that will allow you to achieve the perfect table in no time.
Choose a Base
Every perfect table must have a base that works as the backdrop. If you are a whiz in the kitchen, but fall flat in the decorating department, choose striped or floral table cloths that are eclectic and unique. The tablecloth can act as the perfect canvas and make your table design more vibrant and inviting. Instead of choosing white or plain tones, you should choose more bold and bright color or pattern tablecloth options. There is no such thing as being too daring when choosing a tablecloth.
Use White Plates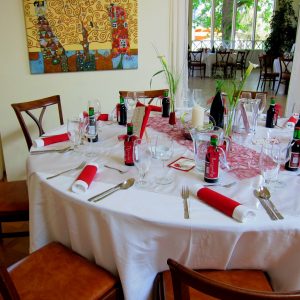 Although you want to steer clear of white table cloths, white can be the perfect color option for your plates. It will blend with almost all tablecloth colors and patterns, which will give a subtle add of elegance. You don't want to choose plates with bright colors or patterns, because that will distract from the beauty of the food. Remember when choosing plates that simple is always better. At any dinner party, the food should always be center stage.
Spice Up The Table
You can make any table setting pop by adding extra features. Salad plates and napkins are an extra touch that can totally transform the look of your table. You can choose salad plates that contrast with your white dinner plates, which will add more flair. The combinations between dinner plates and salad plates are endless and can completely change the look of your table setting easily.
You can even find cheap cloth napkins that will look fancy, but will add class to your dinner party. With so many options to choose from, you can create whatever vision is in your mind. Simply let the tablecloth be the canvas for your visual display.
Table Arrangements
Floral centerpieces are a classic touch that can add beauty and style to your table. You can choose from many different floral options and vase types to create the perfect arrangement. It is best if you choose flowers that match the colors used in your tablecloth and dinner wear to create a cohesive look. Your floral arrangement will soon be the talk of your dinner party.
Simple Glassware
A simple wine glass or crystal goblet will not distract from the overall look of your table setting, but only add beauty. These glassware options are simple and can be purchased for affordable prices. If you are regularly throwing dinner parties, you should definitely invest in glassware options.