Themed Buffet Style BBQ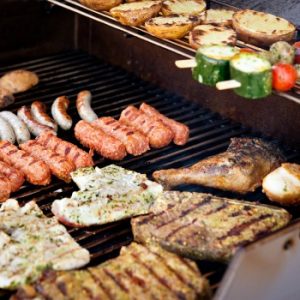 Buffet Bars are the latest party trend that is catching on like wild fire. Dessert bars and candy bars are common for children's parties, but you can have a hot dog bar at your themed BBQ.
Just have your husband grill up a bunch of hot dogs for your guests and set up a table with an assortment of toppings. You can have vegetables, condiments, hot dog sauce, bacon, chili, cheese and other fixings that your guests will enjoy.
This is a much more affordable alternative to steaks, but these hot dogs will be just as tasty.