As mothers soon realize your babies grow up. As they grow up you remember all the different times in their lives. A memorable time is when they are babies. As a baby they are dependent on their parents for so much. This is an important time, not only in their lives, but yours as well. Something special to remember that time is an easy craft idea.
Handprint/Footprint Craft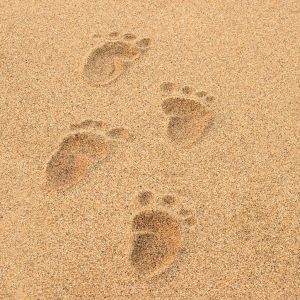 An excellent craft idea is to make a handprint or footprint. If you make this out of clay you will have this for years. This clay can be made from products that you already have in your home. You will see this on and remember how little they once were. This craft project is so simple and easy to do.
The recipe is simple to make and all you have to do is bake it. The only things you will need are flour, salt, and hot water. If you would like to paint it then you can purchase some acrylic paint. The other item you will want to purchase is the ribbon to hang it from.
This craft idea is an excellent idea for new parents. It allows them to remember a time in their child's life. It is also an excellent idea for grandparents. You could even give this gift as a Christmas present. It would be a gift that is unique and something that no one else will be able to purchase.
Creating Your Handprint/Footprint
You will start with putting the ingredients into a bowl. Combine 2 cups of flour, ½ cup of salt, and ¾ cup of hot water. Mix all of these ingredients together to form your dough. Once you have mixed it thoroughly place the dough onto a flat surface. Next you will want to roll your dough into a circle. Once you have formed your circle you can cut the dough into whatever shape you would like.
Gently press the baby's hand or foot into the middle of the dough. Don't worry if it doesn't work the first time. You can just put it back into a ball and roll it back out again. Once you have acquired the impression you can use a straw or pencil to make the holes at the top. Place your handprint/footprint onto a piece of wax paper and place it onto a cookie sheet.
You will bake this at 250 to 350 degrees for 1 ½ to 3 hours. It may turn a little brown but if you want to paint it then you will be fine. Once this cools then you are able to paint it and put your ribbon through the holes. Just remember these are fragile and could break. You will want to keep these hung up a little higher so children aren't able to knock them down.
This is an excellent project to remember a special time in your family's life. You can always have their handprint or footprint hanging as a memory of when they were so very small.