1. Classic Gown + Timeless French Twists
THE CLASSIC GOWN The timeless, "less-is-more" drama of this gown is found in the elegant, simplicity of its clean-cut lines which are set off against a high, Bateau neckline, gracefully following the collarbone's curve.
Minimalistic but stylish, these magnificent pieces lean well clear of any excessive embellishment.
FRENCH TWISTS & BUNS: To add to the clean and classic drama, keep hair as elegantly simple as possible by sweeping tresses up and away from the face, in a classic bun or French twist reminiscent of Audrey Hepburn's signature hairstyle.
Add an accent with dazzling hair clip or other suitable hair accessory.
2. La Boheme Gown + Free-Flowing Romantic Waves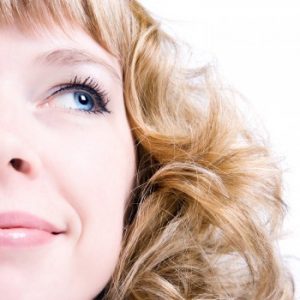 BOHEMIAN (CASUAL)GOWNS: These romantic gowns feature a pre-Raphaelite look with loose, free-flowing, long floral fabrics, dusty rosy and muted pinks & patinas.
Here and there, a nostalgic sweet gypsy details brings further old fashioned decadence to the independent romance of the Bohemian Wedding Gown.
LOOSE FLOWING WAVES: Go for a natural looking, loosely tousled curls waves that wash freely down from the crown and flow fluidly over the shoulders. Curls should cascade romantically and subtly hint to the feisty and free gypsy spirit.
3. Modern Gown + Mussed-up Beehives & Side-swept Curls
MODERN GOWNS: The Modern Gown is perfect for stylishly bold fashionistas who are tying the knot. Featuring asymmetrical necklines, single-shouldered gowns and bravely avant garde lines, this style also has intricately detailed accents adorning it.
MESSY BEEHIVE AND SIDESWEPT CURLS: The high-fashion styling asymmetrical gowns lends a fair amount of creative scope for hairstyling. Don't hold back and go for side-swept curls or a braid or ponytail to cover the exposed shoulder and balance the neckline. Add glamor with a ruffled-up beehive or sharp side bangs to mirror the structured lines.
4. The Halterneck Gown + the Relaxed French Pleat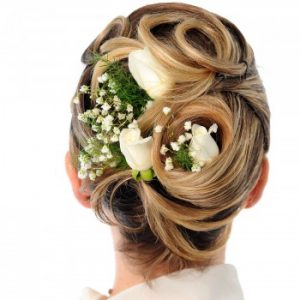 HALTERNECK: Often the simple and sublime rise of the Halterneck front gives dramatically way to the daring (or modest) drop of a backless dress.
RELAXED FRENCH PLEAT: Accentuate the unsuspected drama with a relaxed, un-fussy French pleat that has some height built on top for a hint of what's to follow.
5. The Boho-Grecian Gown + the Classic Half-up, Half-down Do
BOHO-GRECIAN: Greek goddess meets bohemian rhapsody in this utterly graceful, flowing gown style which is sure to transform every bride in a bridal Aphrodite!
CLASSIC HALF-UP, HALF-DO: Accentuate the natural flowing appeal of this dress with the classic half-up, half-down hairdo featuring a sprinkling of fresh cut flowers.
6. Square-Cap Sleeves + Loose Up-do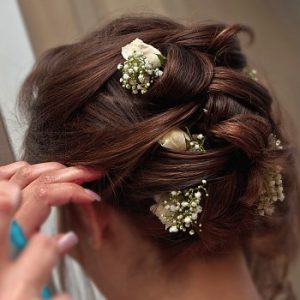 SQUARE-CAP SLEEVES: Simple and sweet square-cap sleeves are lovely and never date.
LOOSE-UPD WITH THIN WRAPPED-AROUND PLAITS: Try a center-parting and take a section on either side, and plait from the top through. Gather up the rest in a low pony tail and twist into a loose bun while allowing, a few strands to fall free.