Why do women crave so many shoes? Shoes are like a staple of life for women. They not only make a woman feel sexy but can add a couple of inches. Once upon a time the world frowned upon the wearing of colourful shoes; now today they are tolerated and embraced.
Recognising that shoes add to an outfit you should not be afraid the spice it up a little or a lot. Shoes are made for walking and strutting your stuff; on the sidewalk, in the mall or in the club. Any woman who is conscious about her sexuality is always looking for the opportunity to add a little pizazz to her wardrobe. You don't have to be rich to choose styles that compliment your wardrobe as there are cool stores that offer a wide and varied range of styles to choose from.
Shoes should be fun, friendly and functional. From flirty flats to spicy heels; show your inner tiger. You can get away with wearing almost any colour shoes under the rainbow if your basic wardrobe is black or neutral colours. The trick knows how to pair your styles and shoes together. Colour is not the only dimension to take into consideration when purchasing a pair of shoes! Some styles are to be left in the store as they add nothing but take everything away from your desired look.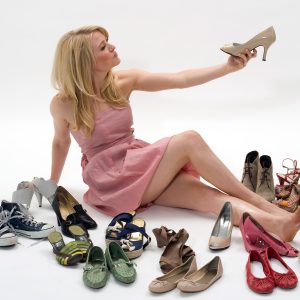 If you do a lot of walking, heels are not really the ideal shoes for you to wear. Try a flat or wedge heel instead. Wedges give you the height; if that is what you require, they elongate the legs while accentuating your outfit all at the same time. The rule of thumb has always been and will always be never to pair patterns with strips, stripes with stripes or patterns with patterns. Never mind what you see going down the runway at the illustrious fashion events held all over the world!
Can you count how much time you have seen runway fashion being incorporated into daily attire? Runway fashion is just that; made for the runway. Fashion conscious trendy everyday people do not live by runway fashion rules. If you are unsure of what can be paired and what can't, just take a look at the celebrities in magazines and online news and you might see some major catastrophes waiting to happen or you might see something that will peak your interest.
Bold colours are offset by neutral colours and pastel tones. For example, if you have a bright pink blouse or skirt, a pair of tan shoes flat or heels will add dimension to the outfit while as the same time maintaining an even tone.
When in doubt remember, everything goes with black or white. Translated greys and beiges are acceptable to be worn with coloured shoes. Whatever you do, find your fun side, explore your options and peruse the possibilities! You never know, you may be the one starting a new fashion trend.