Shoe shopping is many a girl's dream. There are so many options to choose between, whether you need a pair of casual everyday court shoe or you're looking for that snazzy pair of heels for a night out. When you're out shopping for a pair of perfect heels, you need to consider a few factors before you make a purchase.
The Need of the Shoe
What is your main reason for buying this pair of shoes? Do you need something for a night out, so it doesn't matter how high the heel is? Maybe you want something suitable for work or a job interview. This not only affects the height of the heel but also the style and colour of the shoe. There's no point buying something for an event that you're not actually going to be able to wear.
When Will You Wear Them?
You're out shopping for a particular type of shoe and then you spot something else. These heels are beautiful and like no other that you have in your closet. Before you pick them up, ask yourself whether you really need them? When will you wear them and can you justify the purchase? If you find yourself struggling for answers, they're not the perfect pair of heels for you right now.
Can You Walk In Those?
You may have heard people say it to you in the past, but you need to question it yourself. Can you really walk in that pair of shoes? Try them on in the store and take a few steps. Some stores only have one shoe on display, so ask an assistant for the matching shoe and take a walk around. If you're struggling to walk right now, they're not the pair for you.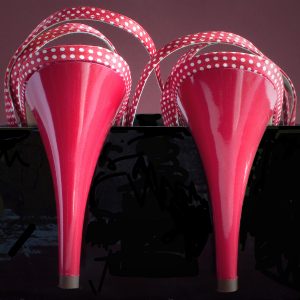 Are They Comfortable?
Another reason to try them on is to make sure they fit comfortably. If they don't fit perfectly now, they're not going to in the future. It is also worth thinking about any pain you might feel after a full day of wearing them, especially in the balls of your feet. The last thing you want to do is buy a pair of shoes that you will only wear once because they are just too painful.
Is There a Better Colour?
There are times that you find a pair of shoes, but the colour isn't quite right. These aren't the perfect shoe but it may be worth checking if there are other colours. Many manufacturers create the same style but in a few colour options to keep their market open as much as possible. If you're not too sure, talk to a shop assistant to find out.
Will the Material Last?
Think about the material before you buy. You want something that will last a few months of everyday wear. This isn't just about the material the shoe is made out of. You need to consider the material of the heel. Metal heels can't always be repaired, so once they break that's it.