Now that we are finally getting some sunny days and slowly but surely the leaves are beginning to return to the trees. The arrival of March signifies so much more than the much anticipated Oscars, congratulations to '12 Years A Slave' by the way, it also signifies the arrival or Spring (and chocolate Easter eggs).
The arrival of Spring, means that colour finally comes back into the world; the flowers bloom an the sky is blue. So it is time to ditch the boring blacks and greys that were your winter staples and relegate them to the back of your wardrobe for the winter months. Start injecting some colour into your life and wardrobe and each day will seem a little cheerier. The catwalk is a great way to find colour inspiration, and here is what colours they say you should be wearing in Spring 2014.
Mint Green
It is a delicious shade that instantly makes you think of tasty mint ice cream and sugared almonds. It's fresh and chic and looks good against any skin tone and hair colour. It will work well against all the other pastel shades that are also set to be big this season, so make sure you invest in some mint loveliness this Spring.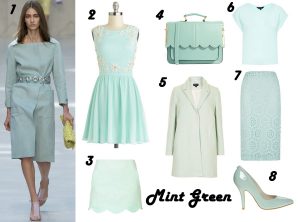 Mint Green: 1) Burberry Prorsum Spring/Summer 2014 at London Fashion Week; 2) Fashionably Afloat Dress, ModCloth; 3) Boucle Scallop Hem Shorts, Topshop; 4) Satchel Bag With Scallop Detail, ASOS; 5) Textured Swing Coat, Topshop; 6) Mint Crop T-Shirt, New Look; 7) Mint Geo Lace Pencil Skirt, New Look; 8) Faith Callaway Mint Paten Heels, ASOS.
Placid Blue
It is a cross between icy blue and baby blue and set to be one of the most coveted colours of the Spring 2014 season. It is a calming shade that is cool and understated, yet stylish enough to add a touch of glamour. If you are afraid that wearing the shade from head to toe is a little cold, mix sky blues with another hot colour of the season, chartreuse, for a pop of vibrant colour.
Placid Blue: 1) Jenny Packman Spring/Summer 2014 at New York Fashion Week; 2) Crepe Tee Shift Dress, Topshop; 3) Light Blue Basic Ballet Flats, New Look; 4) Sky Blue Satin Cami, Glamorous; 5) Light Blue PU Asymmetric Skort, Glamorous; 6) Duffel Bag With Contrast Insert Panels, ASOS; 7) Blue Leather Trench Coat, River Island.
All Yellow
With all the yellow tones available this Spring you will be instantly reminded of fields of daffodils. From bright and bold yellow, to green-tinged chartreuse, to neon tones to mustards, pick the shade you shade you love the best. Unfortunately, this colour can make paler skin tones look slightly washed out and yellow and blonde hair appear brassy, so break up the colour with crisp whites or calming blues to balance the tone out.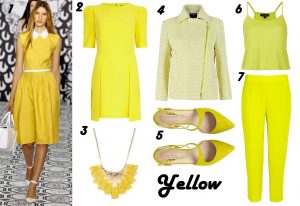 All Yellow: 1) Jasper Conran Spring/Summer 2014 at London Fashion Week; 2) Yellow Stepped Hem Shift Dress, River Island; 3) Thread and Done Necklace, ModCloth; 4) Ted Baker Noira Cropped Boucle Biker Jacket, House of Fraser; 5) Aldo Flat Pointed Asymmetric Flat Shoes, ASOS; 6) Crop Cami Top, Topshop; 7) J. Crew Curator Mid-Rise Crepe Pants, The Outnet.
Silver
Take a trip into the future this spring with some shining silver pieces; there is no better way to make sure you are the focus of attention as you strut down the high street. Just don't go over the top with is as you may find yourself being the focus of ridicule instead of envy. All shades of silver are in style, from dark pewter shades to high shine foil to crazy holographic.
Silver: 1) Marc by Marc Jacobs Spring/Summer 2014 at New York Fashion Week; 2) Tetris Anorak by The Ragged Priest, Topshop; 3) Silver Glitter Plimsolls, River Island; 4) Silver Sequin Maxi Dress, Dorothy Perkins; 5) Silver Foil Tee, Dorothy Perkins; 6) Silver PU Skirt, Glamorous; 7) Metallic Shoulder Bag, Mango.
Nude
Of course this does not mean a complete lack of clothing, that probably wouldn't go down too well in most places. Nude tones are the neutral and natural shades that are softer than browns but with more colour than white and beige. This sandy tones and blush pinks – they are so elegant and make paler skin tones glow and really complement darker skin tones. Just beware, wearing skin tight nude trousers may make you appear that you are without pants completely.
Nude: 1) Collette Dinnigan Spring/Summer 2014 at Paris Fashion Week; 2) Embroidered Satin Shift Dress, Topshop; 3) Pier Platforms, ASOS; 4) Nude Satin Cami Vest, Glamorous; 5) Beige Sequin Embellished Mini Skirt, River Island; 6) Oasis Short Drape Coat, House of Fraser; 7) Stone Patent Panel Tote Bag, New Look.