Colour blocking was quite a big deal through the later stages of last year, and whilst it seems to be hanging on by the fingertips, it is all but over. The advantage to colour blocking is that it works for all body shapes, but the disadvantage is that it is safe – unless you are clashing colours to headache levels, there is nothing really daring about it.
So inject a bit of risk into your wardrobe this spring and fill it full of prints. Take the fashion forward approach and wear a matching print from head to toe or go wild and clash mixed prints together. If an all out assault on the eyes is not for you, then you can just have a little taster of the trend with a printed shoe or bag and keep the rest of the look a little more neutral. It may not be as daring, but it will be just as effective.
So what prints should you be wearing in Spring 2014? Here are the top five that will be taking the high street by storm.
Florals
Feminine floral prints are always a big winner once spring comes around, it is the time when the world comes into bloom after all. So it is probably no surprise that floral prints in all forms are everywhere – from bold more abstract prints, to cartoon graphics and realistic blooms, there is something to suit anyone's personal style. Go for full on colour for a show stopping look or for more chic monochromes for everyday style.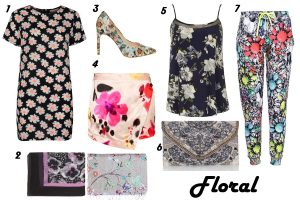 Floral Prints: 1) Glamorous Daisy Print Dress, USC; 2) Floral Scarves, Warehouse; 3) Ted Baker Luceey Tangled Rose Printed Court Shoes, ASOS; 4) Multi Blurry Floral Skort, Topshop; 5) Blue Rose Cami, Dorothy Perkins; 6) Vintage Orchid Blossom Print Clutch, Accessorize; 7) Neon Jaded London Jewel Print Joggers, River Island.
Polka Dots
Polka dots are one of those prints that are popular season after season as the are so versatile. They work together when worn head-to-toe and when mixed with other prints. Suitable for the office or a night out with the girls, polka dots are sure to be a good wardrobe investment for many years to come. Give the look a vintage feel with feminine silhouettes and floaty fabrics.
Polka Dot: 1) Flocked Spot Marl Tee, Warehouse; 2) Spot Flippy Skirt, Miss Selfridge; 3) Mix Spot Shirt, Topshop; 4) Turquoise Polka Dot High Heel Shoes, Debenhams; 5) Light Blue Polka Dot Midi Dress, River Island; 6) Polka Dot Triangle Bikini, New Look; Limited Edition Big Spots Coloured Hoop Earrings, ASOS.
Photorealism
You can turn your wardrobe into a work of art with some incredible realistic prints that look like photographs or beautiful paintings. So will you chose a serene landscape or something a little more novelty? With the photorealism trend the options are endless, you could even get your own image printed onto a tee or plain tunic dress to create something totally unique.
Photorealism: 1) Scenic Print Plunge Bandeau Pencil Dress, River Island; 2) Mi Pac Backpack in Cosmos Print, ASOS; 3) Iceberg Print sweatshirt, Romwe; 4) Gold Chain T-Shirt by Jaded London, Topshop; 5) Vera Moda Cloud Dress, USC; 6) Carousel Print Tube Skirt, Topshop.
Geometric
There is a great scope of variation for geometric prints – it ranges from kaleidoscope style prints, to aztec prints and to mirrored prints. To make a real impact go for bold colours and styles and wear with confidence – make the street your catwalk. Stop the look form becoming too '80s by keeping the silhouettes modern and fresh.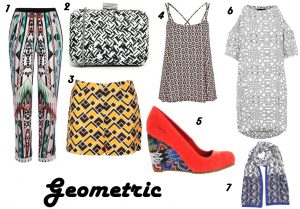 Geometric: 1) Pink Kaleidoscope Print Trousers, River Island; 2) French Connection Printed Clutch Bag, ASOS; 3) Dalilia Retrometric Neon Print High Waisted Shorts, Boohoo; 4) Tile Print Cami, New Look; 5) Blowfish Black Nairobi Wedge, Office; Savannah Dress by Motel, Topshop; 7) Windsmoor Como Print Scarf, Debenhams.
Gingham
it may remind you of those uniform dresses you were made to wear in summer for school, but gingham has come a long way baby. Coming in sophisticated silhouettes and classic colour combinations, the gingham print has great retro appeal that will look great with little kitten heels, frilled socks and a bright red lip.
Gingham: 1) Black and White Gingham Dress by Rare, Topshop; 2) French Sole Camilla Black and White Gingham Pump, ASOS; 3) Gingham Check Cotton Shirt, Mango; 4) Pink Gingham Hair Bow, River Island; 5) Boutique y Jaeger Gingham Check Knit, House of Fraser; 6) Black Gingham Check Tube Skirt, New Look.