Fashion icon, L'wren Scott, tragically passed away recently and it sent shock waves throughout the fashion world, and my heart goes out to all her loved ones and to her partner of ten year, Mick Jagger. As a model, stylist and designer, she will be a real miss to the world of fashion and red carpets may never be the same without her influence.
Long ebony hair and legs that even Naomi must have been jealous of, she was one of the world's great beauties and her beauty will be greatly missed by so many. As a tribute to her supreme skills as a fashion designer, I have recreated five of my favourite looks form her final collection, Spring/Summer 2014, which was extremely well received at London Fashion Week last year.
Rocking Red
L'Wren was never one to shy away from bold colour, just as this vibrant red ensemble shows with crisp white accessories to break up the red. The mixture of textures adds an extra dimension to the outfit, with leather and tweed working so well together. Legs really do go on for miles with super short shorts and extreme platforms – who is brave enough to try this look out?
Rocking Red: 1) Viyella Tweed Jacket, John Lewis; 2) Yumi Cross-Over Front Shorts, Debenhams; 3) Barts Goulburn Hat, ASOS; 4) Kipling Delphin Small Bag, House of Fraser; 5) White Metal Plate Waist Belt, River Island; 6) Pose Suede Wedges, ASOS; 7) Nail Paint in Bright Red, Barry M.
Mellow Yellow
Daffodil yellow is one of the hottest colours of the season, which is great as it suits all skin tones, however, those with pale skin should choose a really saturated colour to avoid appearing washed out. Break up the colour and add definition to the waist with an interesting belt and elongate the legs with a pair of skyscraper platforms.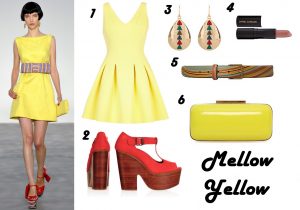 Mellow Yellow: 1) Yellow V Neck Scuba Prom Dress, River Island; 2) Swirly T-Bar Platform Shoes, Topshop; 3) Gold Aztec Print Teardrop Earrings, New Look; 4) Daniel Sander Luxury Matte Lipstick in Nouveau, ASOS; 5) Paul Smith London Multi Swirl Skinny Belt, House of Fraser; 6) Carvela Blast Clutch, Debenhams.
The Jumpsuit
Every girl needs to have a jumpsuit in her wardrobe for this upcoming season and although it will be hard to find one as stunning as this striped one from L'Wren Scott, but there are some great monochrome jumpsuits out there. Team with contrasting accessories or shoulder robed jacket to add a pop of colour and add a sun hat for French Riviera chic.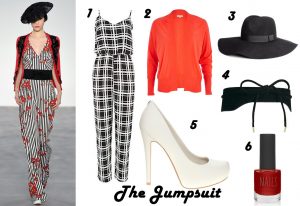 The Jumpsuit: 1) True Decadence Cinched in Cami Jumpsuit, House of Fraser; 2) Coral Unfastened Dolman Cardigan, River Island; 3) Floppy Hat in Wool, H&M; 4) Suede Loot Waist Cincher Belt With Bow Detail, ASOS; 5) Faith Cadburys White Heeled Court Shoes, ASOS; 6) Nails in Bittersweet, Topshop.
Smart Tailoring
The L'Wren Scott Spring/Summer 2014 collection was filled to the brim with clean lines and sharp silhouettes as shown in a gorgeous cobalt blue suit. Tomboy tailoring is set to be a key trend over the next few months, so it is worth investing in some well tailored separates, to wear together, or too mix and match. A belt in a contrasting colour will add definition to the waist, and a bright scarf tucked into the jacket will make a bold statement.
Smart Tailoring: 1) Damsel in a Dress Blue Seychelles Jacket, Debenhams; 2) Damsel in a Dress Blue Seychelles Trousers, Debenhams; 3) Fulton Tiny 2 Tile Motif Umbrella; ASOS; 4) American Apparel Red Belt with Gold Buckle, ASOS; 5) Bebo Faux Suede High Heel Platform, Shoebou; 6) Gingham Check Scarf, Topshop.
Eastern Delight
There is nothing wrong with wearing more muted tones in the Spring and Summer seasons, they can be worn all year round, simply add some brighter accessories and show a little but more skin (within reason of course) for a seasonally appropriate look. The kimono has exploded on the high street in the last month and not just to be worn as a cover up at the beach, but to be worn on all occasions.
Eastern Delight: 1) Kimono jacket in Tonal Floral Maroon, Motel Rocks; 2) Link Platform Sandal, Topshop; 3) Leather Obi Waist Belt, ASOS; 4) Zipper Yellow Flower Brooch, Etsy; 5) Fulton Umbrella with Hooked Handle, House of Fraser; 6) Jane Bow Micro Diamond Shirt; TM Lewin; 7) Embroidered Shorts, H&M.