Denim isn't going anywhere when it comes to style, its history can be stretched back over two centuries and it's still as popular as ever. It's durable, warm, and versatile. Denim has became a major wardrobe feature all over the world. This year though, classic style denim is getting a contemporary makeover. There's a a denim style for everyone, so read on to find out about how to wear denim this fall.
The Jean
This classic style, the straight leg jean, lets you be office appropriate for casual Friday but will give you a chic look when paired with a crisp white blouse and pointy pumps.
The distressed skinny jean is a low rise stretch denim skinny jean is a style that's equally flattering and cool. They look perfectly worn in and when worn with a wedge sneaker and a stylish sweatshirt, you're ready for a day on the go.
The dark skinny is a super slim fit that's a wardrobe staple, no matter if you pair them with heels or ruck them into your boot. The gray skinny is a nice change and feels fresh for fall. You can go monochrome by wearing them with a matching cashmere sweater.
The coated skinny let's you kick your look up a bit. These glossy style skinny jeans should be worn with stilettos when you're heading out for a night on the town, but are great for the office when worn with a pair of flats. These leather-like alternatives give you a chic look and them come in a variety of colors.
The coated metallic skinny jean allows you to shine in gold, silver or copper denim. When you pair these pants with a cable-knit sweater and ankle boots, you're ready to spend the day shopping, but throw on some strapping pumps and a blazer, you're ready for the night life.
Jeans: buckle.com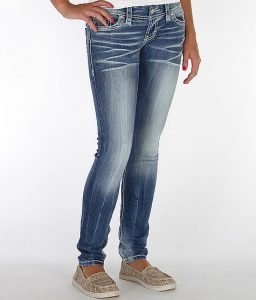 The Jacket
The denim jacket is a classic, the more worn in it is the more vintage it looks. You can wear this denim over maxi dresses and skirts, even your favorite jeans. Wear your favorite moto boots for an even better look.
You'll also find the bomber jacket that gives a sporty style, and when worn with a pair of skinny jeans and a pencil skirt with heels you'll have a contrast look.
The blazer is another type of denim jacket that's been elevated to a new level. When paired with skinny black jeans, you'll have a look that's effortlessly chic, whether your blazer is fitted or oversized.
Jacket: asos.com
The Denim Shirt
There's a big choice with the denim shirt, you can create styles that are boyish with an oversized shirt or a feminine look with a beaded shirt.
You can pair this shirt with just about anything in your closet, even your favorite jeans.
Shirt: levi.com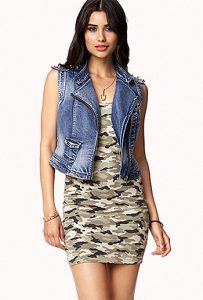 The Vest
Whether you choose a shredded sleeve, a snap front, a trucker's vest, or a moosy blue and macrame, you can be styling.
Just throw one over a silk or floral dress to transition into the cooler temperatures. This lightweight layer can add pockets to whatever you're wearing.