The Winter wedding season is over, but the Spring wedding season is just beginning with Easter being a particularly popular time for loved-up couples to tie the not. Whilst you wouldn't be as cruel to try and outshine the bride with your outfit, you would very much like to outshine the other guests and maybe catch the eye of that handsome usher (only if you're single, of course).
So check out some of my favourite Spring wedding looks, that will certainly have you standing out from the crowd and getting yourself into a few extra photographs.
Two Piece
For those girls out there who are savvy shoppers and want to make the most out of each purchase they make, the two piece could be the perfect choice for a wedding. Chose a jacket and skirt/trousers combo and once the wedding is over you can mix and match the separates with other pieces in your wardrobe.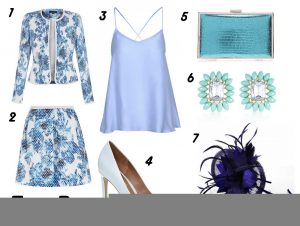 Two Piece: 1) Blue Floral Print Pixelated Blazer, New Look; 2) Blue Floral Print Pixelated Skater Skirt, New Look; 3) Sky Blue Satin Cami, Glamorous; 4) Aldo Edilania Pointed Toe Court Shoes, House of Fraser; 5) Miss KG Tina Clutch Bag, House of Fraser; 6) Aqua Petal Surround Gem Stone Stud Earring, River Island; 7) Navy Blue Fascinator, KC Mode.
Jumpsuit
The jumpsuit is the hottest garment of the Spring 2014 season, so there absolutely no reason why they cannot be worn for a wedding. Choose something with a print or some tailoring to keep the look chic and occasion appropriate. Wide legged versions are bang on trend and create a flattering silhouette for all shapes. In addition, they are super versatile and can be worn in casual daytime style with gladiator flats and cross body bag.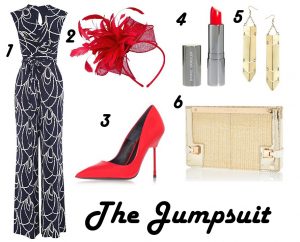 The Jumpsuit: 1) Phase Eight Brittany Jumpsuit, John Lewis; 2) Phase Eight Lou Fascinator, House of Fraser; 3) Britton Metal Heel Pointed Stiletto by Kurt Geiger, Topshop; 4) Daniel Sandler Micro-Bubble Lipstick, ASOS; 5) Arrow Drop Earrings, Topshop; 6) Gold Raffia Panel Metal Trim Clutch Bag, River Island.
Fit and Flare
The fit and flare style of dress is so fun and flirty, it is perfect for a Spring wedding, especially if you are trying to incite a little bit of romance for yourself. Choose one in a structured fabric so you get the extreme skater dress silhouette, which will really show off a pair of killer legs. Pick a bold print, to make sure people can't help but glance in your direction.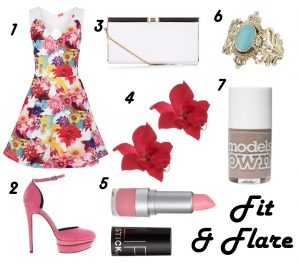 Fit & Flare: 1) Delora Printed Skater, Oasis; 2) ASOS Parody Platforms, ASOS; 3) Wide Contrast Trim Clip Frame Clutch, New Look; 4) Orchid Flower Clips, Accessorize; 5) Lipstick in Pink Glove, H&M; 6) Green Oval Cocktail Ring, Topshop; 7) Models Own Naturals Nail Polish, ASOS.
Bold Colour
If you really want to stand out at that Spring wedding, choose a dress in a bold colour that is sure to set you apart from any pastel shade. Bold colours tend to look better with bronzed skin, so you may want to consider squeezing in a light spray tan before the big day – don't even think about going for a dark orange tan, you will get attention for all the wrong reasons that way.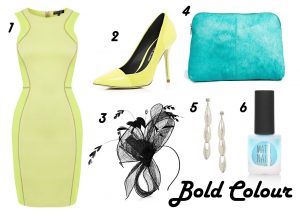 Bold Colour: 1) Piped Jacquard Bodycon Dress, Warehouse; 2) Yellow Toe Cap Pointed Court Shoes, River Island; 3) Coast Marla Fascinator, House of Fraser; 4) Leather Clutch Bag in Pony, ASOS; 5) Three Drop Textured Earrings, Dorothy Perkins; 6) Nails in Dilly Dally, Topshop.
The Maxi Dress
The maxi dress is a Spring classic and therefore purchasing one for wedding is sure to be a good investment piece – it could be worn for a day out to the races, a romantic meal or even taken on holiday and dressed down a touch with flip flops and a wide brimmed hat. Nude shades will look wonderful against all skin tones and will create a beautiful silhouette when nipped in at the waist and worn with killer high heels.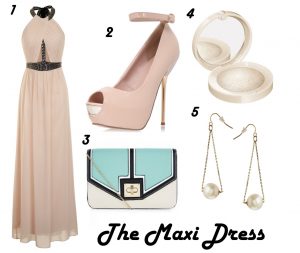 The Maxi Dress: 1) Cream and Black Maxi Dress, Dorothy Perkins; 2) High Heel Platform Shoes by Miss KG, Topshop; 3) Mint Green Colour Block Panel Clutch, New Look; 4) Little Round Pot Light Eyeshadow in 01, Bourjois; 5) Designsix Pearl Swing Drop Earring, ASOS.