Hopefully without giving away too much information about my age, when I was a school there was no such thing as a prom and I didn't attend my leaving ball at University, we did out own thing.
But, these days, borrowing from American culture, there is a prom for everything – turning 16, finishing school, finishing sixth form or college, and finishing university. There are probably more occasions that call for a prom, like getting a new car or joining a gym, but I'm a little bit out of the loop.
Thanks to some in-depth discussions with my younger sister, who has a prom coming up this summer, I now know what every girl must have for prom to feel like the princess she has secretly always wanted to be, tomboy or not…
The Dress
It all has to start with the dress – you may never have an occasion to wear that prom dress again, but you still want to be the most special thing you have ever owned. So will it be a vintage-style beaded number, a classic 50's style prom dress, or a contemporary mini dress with stand-out embellishments? Whatever the dress, make sure that it is one that you love.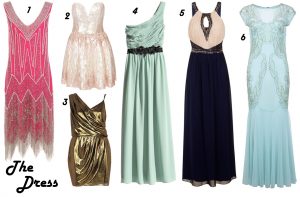 The Dress: 1)Bonnie Fuschia Flapper Dress, Miss Selfridge; 2) Limited Edition Pink and Gold Sequin Dress by Rare, Topshop; 3) Gold Metallic Asymmetric Slip Dress, River Island; 4) Long Dress, H&M; 5) Cream and Navy Maxi Dress, Dorothy Perkins; 6) Embellished Maxi Dress, Miss Selfridge.
The Shoes
The dress may be so long that you wont even see them, but that doesn't mean you don't want a fabulous pair to match the dress. In addition the higher the heel the longer your legs look and the better your figure looks in general. However, as you are probably going to be on your feel all night, so either choose a platform heel for less pressure or make sure you pop in a pair of cushioned insoles. Remember to chose a shoe that is rather neutral or classic black in colour, so the dress remains the main attraction. You will be ready to dance the night away.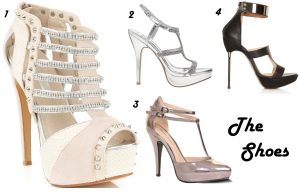 The Shoes: 1) Presley Diamonte Heel, Miss Selfridge; 2) Faith Larkings Embellished Silver Heeled Sandals, ASOS; 3) Pewter Metallic T Bar Court Shoes, Dorothy Perkins; 4) Lollipop Black Leathee Heeled Shoes, Topshop.
The Bag
Now you are going to need a little clutch bag to keep you camera, lipstick and phone in and that plan old black clutch you have had for years just isn't going to cut it. If you really want to match your bag to the elegance of the occasion you really should go for a metallic number or a embellished box clutch.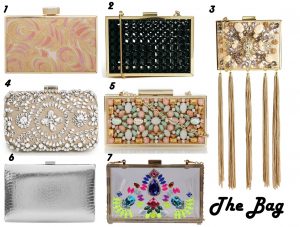 The Bag: 1) Pink Brocade Clutch, Miss Selfridge; 2) Coast Weave Box bag, ASOS; 3) River Island Tassel Box Clutch, ASOS; 4) Jewel Box Clutch, Mango; 5) Dune Ecasey Jewelled Box Clutch, House of Fraser; 6) Dune Beloise Clutch Bag, John Lewis; 7) Skinny Dip Perspex Jewel Clutch Bag, USC.
Beauty
What prom princess would be ready to go to the ball without her make-up done to perfection. Everything from the hair, to the nails, to the lips to the eyes, everything must be done to with absolute precision – not a single hair can be out of place. However, the key is not to plaster the make-up on; I know it is a special occasion and you really want to glam up for it, but if you overdo it, you are going to look more drag queen than prom queen. Make a feature out of the eye or lip, never both.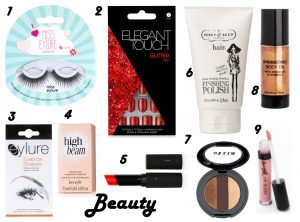 Beauty: 1) Alice Pre-Glued Lashes, Eyelure; 2) Red Glitter Press-On Nails, Elegant Touch; 3) Brow Shapers, Eyelure; 4) High Beam Highlighter, Benefit; 5) Sheer Lip in Red Alert, Topshop; 6) Percy & Reed Finishing Polish, ASOS; 7) Stila Eye Shadow Trio, ASOS; 8) Shimmering Body Oil, H&M; 9) Lip Gloss, Barry M.
Accessories
Whilst jewellery should be kept to a minimum, especially with a heavily embellished dress, there is no harm in a few simple accessories to accentuate your look. Something simple in your hair and a classic pair of earrings, can add a little bit of extra sparkle to your look.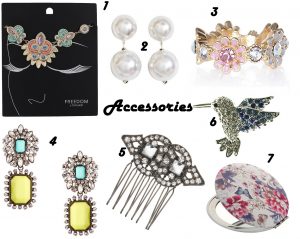 Accessories: 1) Pastel Beaded Headband, Topshop; 2) Large Earrings, H&M; 3) Gold Tone Flower Thumb Ring, River Island; 4) Love Rocks Lime Drop Earrings, ASOS; 5) Georgine Crystal Comb, Accessorize; 6) Indulgence Crystal Hummingbird Brooch, House of Fraser; 7) Delicate Blossom Mirror, Accessorize.