The sun is finally starting to shine and you can't help a feeling in a better, more summery mood. So you root around in the back of your wardrobe for your favourite floaty Summer dress and head out the door. The only problem is, that it is not quite warm enough yet and you spend the day shivering, huddled round a giant cup of coffee.
But fear not ladies, the jumpsuit is a great trans-seasonal piece that is bang on trend and will keep the chill away until the temperature heats up. So head down to the shops and pick yourself up a jumpsuit or too, you will be surprised at how versatile they are.
Smart Tailoring
Who said the jumpsuit couldn't be sharply tailored? This season Tuxedo-inspired tailoring has had an influence on all aspects of fashion, including the jumpsuit. The tailored jumpsuit is will be super chic on a night out and office even office appropriate when worn with some simple flat shoes an and a shirt underneath.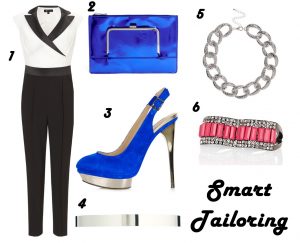 Smart Tailoring: 1) Kardashian Tuxedo Jumpsuit, Lipsy; 2) Flat Clutch bag With Metal Front Pocket, ASOS; 3) Sunny Sling Back Platform Shoes, Topshop; 4) Skinny Full Metal Waist Belt, ASOS; 5) Limited Silver Mesh Chunky Chain, New Look; 6) Pink Gem Stone Statement Double Finger Ring, River Island.
Boilersuit
The boilersuit isn't only for mechanics and janitors, it can be one of the most stylish members of your wardrobe hen worn in the right way. Wear with some strappy flats and a belt to draw in the waist and create shape. For a 1940's factory girl look, add a head scarf or bow and of course, a pillar box red lip.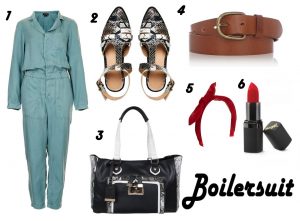 Boilersuit: 1) Casual Boilersuit, Topshop; 2) Junior Pointed Flat Shoes, ASOS; 3) Lipdy Snake Panel Tote Bag, USC; 4) Vintage Leather Jeans Belt, Warehouse; 5) Red Bow Alice Band, New Look; 6) Lip Paint in Pillar Box Red, Barry M.
Printed
When choosing a printed jumpsuit, make sure the print is not to over-the-top as you are wearing it from head-to-toe. Team with simple accessories and a pair of platform shoes to avoid the leg-shortening effect, printed jumpsuits can create.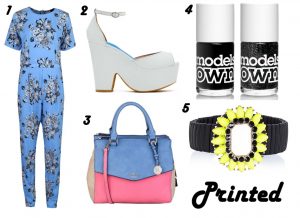 Printed: 1) Lilah Full Length Jumpsuit in Morris Flower, Motel; 2) Jeffrey Campbell Brazen Platform, Nasty Gal; 3) Fiorelli Mai Tote Bag, USC; 4) Black Magic and  Mixed Up Nail Polishes, Models Own; 5) Black Fluro Gem Stone Stretch Bracelet, River Island.
Retro
Take it back to the fifties with a stunning collared jumpsuit, with a tropical print. There is no other way to wear it than in typical Old Hollywood glamour style – think oversized cats eye sunnies, floppy wide-brimmed hat and towering wedges. Keep the look up-to-date with some contemporary accessories and a vibrant nail polish.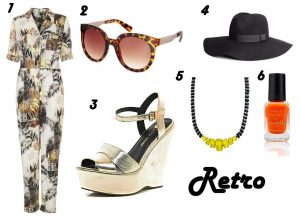 Retro: 1) Lux Palm Jumpsuit, Topshop; 2) AJ Morgan Round Sunglasses, ASOS; 3) Gold Snake Wedge, River Island; 4) Floppy Hat in Wool, H&M; 5) Faceted Jewel Collar Necklace, ASOS; 6) Nail Paint in Tangerine, Barry M.
Strappy
For something a little more casual and everyday, choose a strappy jumpsuit, that can be thrown on for a day out shopping, lazy Sunday lunch or even a trip to the beach. Team with a pair of stand-out gladiator sandals and some stacked bangles for a touch of Boho chic, Wear a contrasting bikini top underneath for an extra punch of colour.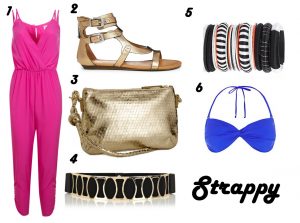 Strappy: 1) Pink Strappy Jumpsuit, Miss Selfridge; 2) Report Signature Lastro Gladiator Flat Sandals, ASOS; 3) Leather Shoulder Bag, H&M; 4) Wide Metal Sections Stretch Waist Belt, Warehouse; 5) Black Fluro Mixed Bracelet Pack, River Island; 6) Blue Twist Bandeau Bikini Top, New Look.