The most romantic day of the year is just around the corner, no it's not Shrove Tuesday, it's Valentine's Day. The say where couples everywhere celebrate their love and single people everywhere hit the nearest tub of ice cream and curse their happiness.
Well ,we believe that Valentine's Day shouldn't just be for those who are in love, it should be for everyone. If you aren't in love with another, celebrate the day and the love you should have for yourself.
So whether you are going for a romantic dinner, or just snuggling up on the sofa with a good book, we have the look for you.
Romantic Dinner
A lot of couples will be spending their Valentine's Day going for a romantic meal together. Lots of delicate candlelight, hand holding and long loving gazes – every girl is going to want her most beautiful. Red is the colour of love, so what could be more perfect than a gorgeous red dress with a pair of killer heels to show off your legs and a matching red lip. He wont be able to keep his eyes off you.
Romantic Dinner: 1) Box Pleat Prom Dress, River Island; 2) Prism High Heels, ASOS; 3) Gold Heart Chain Necklace, New Look; 3) Lip Bullet in Joyride, Topshop; 5) Cobalt Fizzy Clutch Bag, Dorothy Perkins; 6) Heart Nail Stickers, Etsy.
Cosy Night In Solo
Some may be having a romantic dinner, but there is nothing wrong with a microwave meal for one. They are easy, often quite tasty and super quick so you have plenty of time to pamper yourself. Get the kettle on for a nice mug of hot chocolate, put your favourite movie on or pick up a good book, have a nice pampering face mask and manicure, and get settled for a cosy night on the sofa. Maybe even light yourself a few scented candles and enjoy a bit of luxury.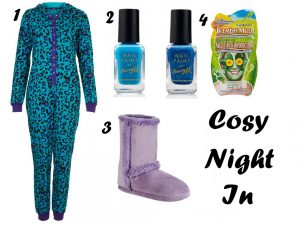 Cosy Night In Solo: 1) Leopard Print Jersey Onsise, Topshop; 2) Nail Paints, Barry M; 3) Velour Slipper Boots, Matalan; 4) Montague Jeunesse Blemish Mud Face Mask, New Look.
Lunch With A Loved One
Why not have a nice lunch with a loved one, it doesn't have to be with a partner – why not take your mum, dad, sister or brother etc. out to lunch, just to show them you love them. If you are not in a relationship on Valentine's Day, don't spend the day thinking about what you don't have, but instead about what you do have. Have some laughs about the old times ans re-tell some of your favourite stories, whilst eating something truly sinful.
Lunch With A Loved One: 1) Jersey Top, H&M; 2) Tailored Jacquard Trousers, Glamorous; 3) Enamel Red Link Looped Earring, Dorothy Perkins; 4) Lipsy Quilted Cross Body Bag, Next; 5) Tricia Multi Buckle Boots, Missguided; 6) Soon Short Wool Blend Jacket, Matalan.
Cocktails With The Girls
Maybe you see Valentine's Day to show a little bit of single girl solidarity and hit the town with your single friends. Get dressed up to the nines, have a few fancy cocktails and dance the night away with your best friends…who needs a man! Put on a dress that makes you feel good and a pair of sky scraper heels that are sure to hurt your feet and go and have some fun, isn't that all that girls want.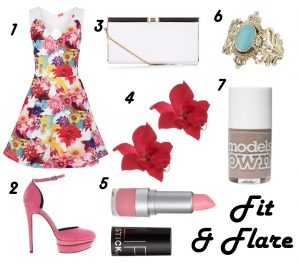 Cocktails With The Girls: 1) Floral Skater Dress by Rare, Topshop; 2) Blast Clutch by Carvela, Debenhams; 3) Portia Strappy Heel, Miss Selfridge; 4) Sleek True Colour Lipstick in Fuschia, Superdrug; 5) Eyelure False Eyelashes, Missguided; 6) Splayed Stone Chandelier Earrings, New Look.
Cinema Date
Perhaps you have been with your partner for a long time, or you take a more relaxed approach to Valentine's Day. You want to do something together, but you don't wanted be crammed into a restaurant trying to make yourself heard over all the other loved-up couples. If you just want to relax in each others company, with the added bonus of stuffing your face full of junk food, then the cinema is the perfect date. You can dress in style and comfort and leave the heels at home.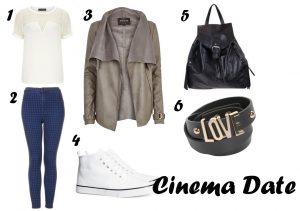 Cinema Date: 1) Sheer Insert Tee, Dorothy Perkins; 2) Blue Gingham Jeans, Topshop; 3) Leather-look Waterfall Jacket, River Island; 4) Sneakers, H&M; 5) Firetrap Fringe Backpack, USC; 6) Tine Love Belt, Boohoo.