Girls, it is time to ditch the jeans – I'm sorry, I know you have probably just bought some of those 'Mom' jeans that every fashion mag has told you that you have to own.
Casual Love
Come on girls, be honest, you don't always have the energy or inclination to wriggle your way into those tight trousers or to perfectly press those tailored ones. Sometimes, you just want to be comfortable, whilst you run some errands, go for a walk, or go to college or university. But that doesn't mean you are going to leave style at the door and roll out of bed and onto the streets. With a printed pair of joggers in a luxe material you can dress in both style and comfort…bonus.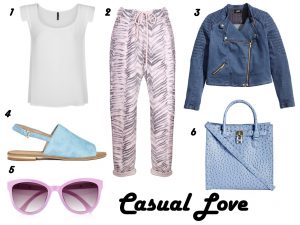 Casual Love: 1) Shoulder Detail Top,Mango; 2) PPB Animal Print Joggers,Pret A Portobello; 3) Denim Jacket,H&M; 4) Aldo Cassica Light Blue Flat Sandals,ASOS; 5) Light Purple Oversized Sunglasses,River Island; 6) Ostrich Design Tote bag,Matalan.
Water Cooler Chic
Come on girls, admit it, you want to be the most stylish girl around the water cooler at the office. You feed off the complements of others, it puts that spring in your step and makes the work day a little more bearable. So wow your colleagues with a stunning work wear look featuring a pair of tailored printed trousers and some sharp silhouettes. Don't be afraid to inject a bit of colour into your work wear wardrobe to break up all that grey, plus you can go straight from the office to the bar without a break in your stride.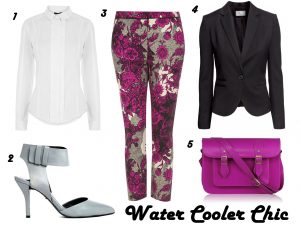 Water Cooler Chic: 1) Pleat Front Clean Shirt,Warebouse; 2) KG by Kurt Geiger Caden Pointed Heeled Shoes,ASOS; 3) Oriental Floral Cigarette Trousers,Topshop; 4) Single- Breasted Jacket,H&M; 5) Purple Satchel Style Office Handbag,KC Mode.
Lazy Lunch
Don't you just love those lazy Sundays, when you have nothing to do but go for a Sunday lunch followed by a long relaxing stroll to walk it off. On days like these, smart tailoring will not do, it has to be a pair of printed jeans, with a little bit of stretch to accommodate all that delicious food. A flirty floral print will see you through Summer in style and be extremely versatile – suitable for many occasion depending on the styling.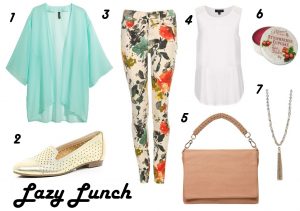 Lazy Lunch: 1) Chiffon Kimono,H&M; 2) Gold Metallic Perforated Slipper,River Island; 3) Dr Denim Arlene Floral Printed Skinny Jean,Van Mildert; 4) Double Layer Vest,Topshop; 5) Beige Woven Strap Bag,Dorothy Perkins; 6) Rose & Co Lip Salve,ASOS; 7) Beaded Chain Tassel Necklace,George @ ASDA.
Glam Night Out
Glamour is not all about the embellished mini, or the show stopping maxi dress – you can be jut as glamorous in a pair of perfect printed trousers. Just choose a style that is perfectly fitted or features really sharp tailoring and team with a top in a luxe material and killer high heels. Don't forget those extra little glam touches like perfectly manicured nails and voluminous lashes.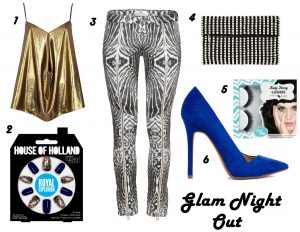 Glam Night Out: 1) Gold Metallic Draped Cami Top,River Island; 2) Royal Explosion Nails by House of Holland,Elegant Touch; 3) Twill Trousers,H&M; 4) Jaeger Graphic Beaded Clutch,House of Fraser; 5) Katy Perry Cool Kitty Evening Lashes,Eyelure; 6) Pensive Pointed High Heels,ASOS.
By The Pool
Holiday season is here and sure you may not know anyone at the tropical destination you're jetting off too, but that doesn't mean you should abandon your quest for style perfection. Every pool side stroll to the sun lounger is a catwalk, so make it work with some amazing printed palazzo trousers that will be sure to draw the attention of the other sun worshippers. Don't forget the wide brimmed hat and oversized sunglasses – it's sun protection done with style.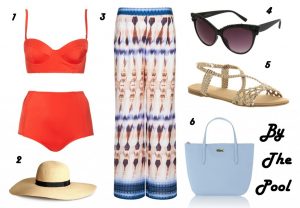 By The Pool: Red Basic Longline Bikini,Topshop; 2) Straw Hat,H&M; 3) Printed Palazzo Trousers,Mango; 4) Gem Embellished Cat Eye,Miss Selfridge; 5) Hades Weave Sandals,Office; 6) Lacoste Blue Small Tote Bag,House of Fraser.