In these times of recession, many of us girls are buying less clothes and instead are looking for good investment pieces that will be in style season after season. Pieces that are versatile and can be worn time and time again with many different outfits, many different styles and many different occasions.
There is probably no better investment piece than the classic white Oxford shirt. It is something every girl should have in their wardrobe, as it is the most versatile piece of clothing you could own. Look after it well by washing on a cool wash, with a whitening powder and iron with with a starch spray – Treat it well an it will serve you well time after time, wear after wear. Here are just five of the many ways you can wear the classic white shirt…
Rock Chick
Maybe you are going to a gig, or just love the rock chick look, the white shirt is perfect for it. Team with a pair of faux leather pants and a pair of killer heels and you are already halfway there. Add some chunky jewellery with a Gothic edge and a statement clutch and you have achieved rock chick perfection. For a more daytime look, swap the heels for biker boots and the clutch for a oversized tote bag.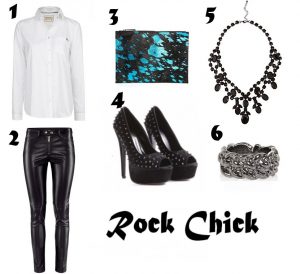 Rock Chick: 1) The Classic White Shirt, Mango; 2) Imitation Leather Trousers, H&M; 3) Leather Clutch Bag in Pony Paint Splatter, ASOS; 4) Janae Spike Peep Toe Heels, Missguided; 5) Black Stone Bib Necklace, New Look; 6) Gunmetal Tone Chunky Chain Ring, River Island.
Work Wear Chic
Work wear or office wear does not have to be boring and stiff, you can turn your classic white shirt to the most stylish thing in the office. Swap the standard pencil skirt for one with an interesting print and team with a pair of funky shoe boots and a wide waisted belt. Top the look off with a tailored blazer and feature handbag, and you have a look that will not just be stylish in the office, but stylish anywhere else too.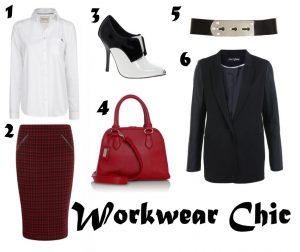 Work Wear Chic: 1) White Shirt, As Before; 2) Check Pencil Skirt, Dorothy Perkins; 3) Toulouse Pointed Shoe Boots, ASOS; 4) Mini Formal Frame Bag; Next; 5) Metal Bar Punch Hole Belt, Topshop; 6) Black Leather Effect Sleeve Jacket, Miss Selfridge.
Preppy
The preppy look is perfect for a daytime date or day out with friends – it's the classic smart/casual look. Wear your classic white shirt under a checked jumper, with a pair of cigarette trousers. The only shoe of choice for the preppy look has to be the loafer and the bag of choice has to be the satchel. Some faux pearl jewellery will finish of the preppy style to country club perfection.
Preppy: 1) White Shirt, As Before; 2) Stitch Front Cigarette Trousers, Topshop; 3) SoulCal Check Jumper, USC; 4) Cream Croc Metal Toe Cap Slipper Shoes, River Island; 5) Faux Leather Small Satchel, Aubina; 6) Cream Pearl Ribbon Ball Bangle Set, New Look.
Cocktail Party
It is party season, so we have to include a cocktail party look for your classic white shirt, so you can wow all your co-workers at the Christmas party. Show off those legs in a pair of embellished shorts – high waisted shorts will be better to tuck your shirt into and will create an hourglass silhouette. Don't be afraid to go for over-the-top chandelier earrings and some jewelled shoes, to amp up the glam factor.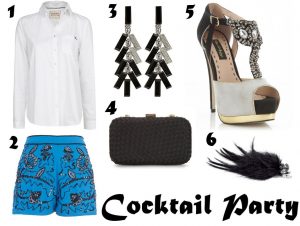 Cocktail Party: 1) White Shirt, As Before; 2) Blue Embellished Shorts, River Island; 3) Coast Liza Earrings, Debenhams; 4) Satin Boxy Clutch Bag, M&S; 5) Palace Stone Embellished Shoes, Miss Selfridge; 6) Hair Clip, H&M.
Classic Casual
The classic casual look is the one that we probably wear the most, but you may think that the shirt isn't really that casual, but it is all about how you wear it. Team with a pair of washed out jeans and some wedge trainers, for a casual look that still has oodles of style. For an extra punch, add a printed belt and a wooly hat…it is getting cold out there.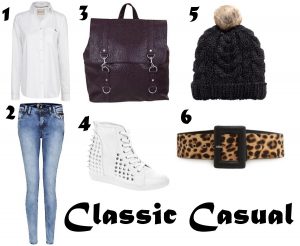 Classic Casual: White Shirt, As Before; 2) Mid Blue Skinny Jeans, New Look; 3) At Republic Buckle Backpk, USC; 4) Studded Wedge High Top Trainers, ASOS; 5) Knitted Hat, H&M; Leopard Fur Wide Belt; Mango.