When I was a little girl, I remember watching my Grandma getting dressed up in her Sunday Best (not necessarily on a Sunday) and she would wear these glamorous matching sets – printed blouse and matching full skirt, I though she looked beautiful. So it is great news that co-ordinating sets are back in fashion and have been updated with contemporary silhouettes, prints and colour palettes.
You get extra versatility out of a co-ordinating set, as not only do the look great when worn together, they look great worn as separates with the other pieces of your wardrobe. So, sit back and relax, and check out some of the best co-ordinating sets that the high street has to offer, you will be impressed, I promise you.
Floral
Floral prints are just about everywhere this Spring/Summer season and what better what better way to incorporate them into your wardrobe than with a great co-ordinating two-piece. Worn separately they will add some sunshine to your wardrobe basics. When worn together they will create a real statement outfit, perfect for a wedding, a lunch date or any occasion that you feel like standing out from the crowd.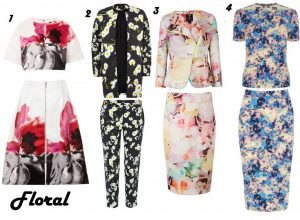 Floral: 1) Limited Edition Floral Print Tee and Skirt, Topshop; 2) Black Daisy Print Open Front Coat and Trousers, River Island; 3) Ted baker Electric Daydream Biker Jacket and Skirt, House of Fraser; 4) Abstract Floral Top and Skirt, Warehouse.
Pastel
Easter time is just around the corner and there is nothing that screams Easter more than sugary sweet pastel shades, just like those candy shells of those well-known chocolate eggs. Be the most stylish chick at the Easter egg hunt (see what I did there?) with a pastel ensemble way more delicious than chocolate.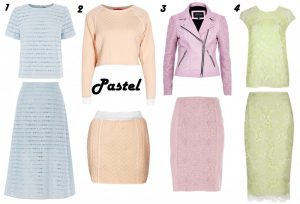 Pastel: 1) Cropped Lace Tee and Lace Skirt, Warehouse; 2) Ruby Cable Quilted Sweat and Rosie Cable Quilted Skirt, Boohoo; 3) Pink Floral Embossed Leather Jacket and Skirt, River Island; 4) Keelio Lace Top and Nova Lace Skirt, Ted Baker.
Geometric and Abstract
Abstract prints have become more popular over the previous few months, with geometric shapes and repeating patterns being popular motifs. Loose fabrics and floaty silhouettes will create a more relaxed and casual look, whilst tailored silhouettes and luxe fabrics will give a sharper look, especially when teamed with a killer pair of heels.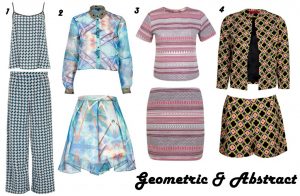 Geometric & Abstract: 1) Geo Palazzo Trousers and Matching Cami, Dorothy Perkins; 2) Blue Abstract Chiffon Cropped Shirt and Matching Skirt, River Island; 3) Jacquard T-Shirt and Skirt, Miss Selfridge; 4) Mollie Geo Print Jacket and Kate Geo Hotpant, Boohoo.
Checked
Go a little bit retro with some elegant checks and ladylike gingham. Worn head to toe, checks can be a little bit heavy on the eye, like looking at a magic eye picture, so keep the accessories simple and to a bare minimum. A large clutch in a block contrasting colour, will break up the busy print and soften the whole look.
Checked: 1) Navy Check Tee and Matching Skirt, Dorothy Perkins; 2) Maria Blue and Yellow Plaited Detail Skater Skirt and Adele Woven Checked Tee, Boohoo; 3) Textured Gingham Top and Trousers, Topshop; 4) Pink Gingham Check Crop Top and Midi Skirt, New Look.
Bold Statement
Make a bold statement with your co-ordinates, choosing an interesting shape or silhouette, daring print or super bold colour blocking. These co-ordinates take real fashion bravery to wear, but it is a bravery that will really pay off.
Bold Statement: 1) Orange Collar Top and Boy Shorts by Boutique, Topshop; 2) Hemma Candy Bar  Stripe Print Top and Tijana Stripe Skirt, Ted Baker; 3) White Chelsea Girl Souvenir Print Shirt and Midi Skirt, River Island; 4) Diane Chain Strap Ruched Woven Crop Top and Saga High Waisted Acid Wash Trousers, Boohoo.