Shadow of the Old Walls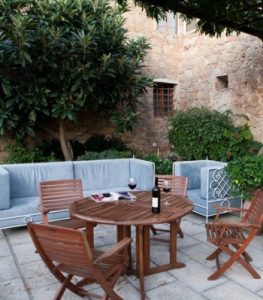 Modern outdoor furniture and old walls make a charming contrast in this convenient courtyard seating area.
Brick-colored Wood Fence and Flower Bed
A fairytale effect can be achieved by the vivid color brick fences, since they almost pop out of the green environment.
Colorful flowers and white climbing plants add color to the image.
Modern Dining Room Terrace
Stylish open dining room, interior wallpaper with stripes and copper, refined fabrics and outdoor furniture – and you are ready!
Barrel Planter
An old wooden barrel can be decorative in external spaces. Simply fill the top with soil and plant low-growing flowers in it.
Garden Furniture with Lights
A simple tent cover set up on the trellis with suspended lights can do magical atmosphere in the evenings.
Flower Pots on the Wall
Flower-lined entrance is designed in Mediterranean style show your visitors a completely new world.
Hidden Basin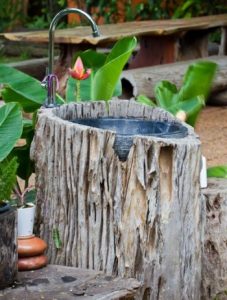 A tree stump with a hole can be a great hiding place for an artificial basin.
Stepped Seating
Every garden owner deserves a little luxury! Why don't you make your outdoor steps comfortable with seat cushions?
Modern Terrace with Furniture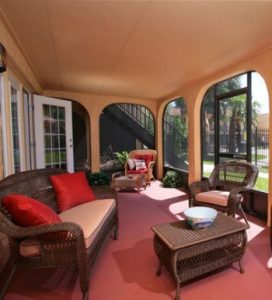 A wonderful glass-walled terrace with comfortable braided furniture.
Rock Garden with Furniture
Furniture nestled in a small rock garden, surrounded by flower pots.
Cart as a Planter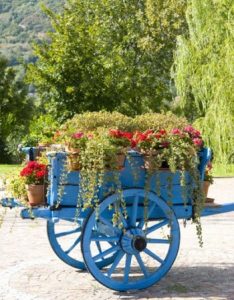 A wonderful little cart, painted with blue, holding colorful flowers and charming creepers.
Ladders with Chinese Flower Pots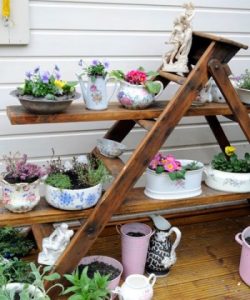 A ladder and two shelves make perfect outdoor furniture. Absolutely amazing with Chinese flower pots.