Valentine's Day is a great day to celebrate love. It makes it one of the perfect days for your engagement party. You get to spend it with your loved one, while sharing it with your friends. You can discuss wedding plans and create an atmosphere for your single and loved up friends. Here are some great ideas to get your Valentine's Day engagement party off with a bang.
Create a Personalised Banner
Get to work on creating the perfect Valentine's Day engagement banner. It can be as personalised as you want, whether it is a message from the groom-to-be to the bride-to-be or vice versa. It's also something that you can work on together. The best thing about personalised banners that you make yourself is that the costs are reduced considerably.
Opt for a Love Theme
You probably haven't had time to think about the theme of your wedding yet. Even if you have, you don't want to give it away. However, you need a theme for your engagement party and what better than the theme of love? There are different ways that you can incorporate this, whether you have heart-shaped cookies or a red theme all around.
Have a Photo Collage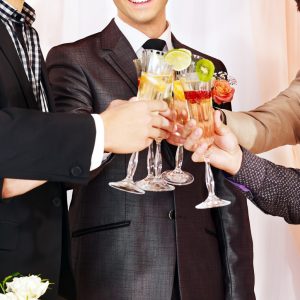 Show your friends and family members how much you love each other by putting together a photo collage of the two of you. There are different ways that you can do this. You could have a projector set up, which goes through various photos you've had together or you can make your own printed one to have put up somewhere. A printed collage could then be used at your wedding for your guests to sign.
Think About Your Cupcake Flavours
While you may want something chocolatey on the day, you need to think about the flavours of your cupcakes, cakes or cookies. You want something that comes across as love, which is usually strawberry flavoured items. Think about strawberry jelly or chocolate covered strawberries for your guests. If you want to get away from strawberries, raspberries and white chocolate or cherries are great alternatives. You could also choose red velvet cakes and cupcakes.
Personalise Different Aspects of the Party
You want guests to go away feeling that you're grateful for their gifts. Gift favours are an excellent way to do this. Why not create small personalised ones that will remind them of the date of the engagement party? You could have a small box with a personalised label or a frame that has a photo of you with that particular guest. You also want to find ways to personalise other items, like the wine bottles or the main cake.
Have a Fancy Dress Theme
Get everyone to come in fancy dress. You could have a Cupid theme or stick to general love, or you may want something completely different. Go all out with your own costume, so your guests don't feel silly when they turn up. Some of your guests won't want to do this, so make it optional.