Holiday season is just around the corner and you really can never be to well prepared with your holiday wardrobe. Most of us girls, although we admit it only to ourselves, want to be the one at the pool or on the beach that every other girl wants to be. So we spend hours choosing the perfect bikini , cover-up and accessories, so we can be the one that others look upon with envy. Plus the perfect holiday attire may even help to prompt a little bit of holiday romance…
The Bikini
The bikini is something that most of us girls would never wear to the local pool, but when it comes to going on holiday, we pack our suitcases with more than we could wear on those seven days in the sun. And why not? There is little that fells better than warm sun on your bare skin, and you're going to get a pretty good tan out of it too. Just make sure you wear adequate sun protection.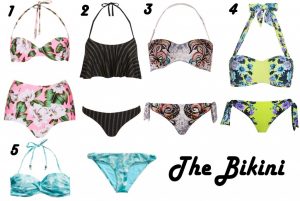 The Bikini: 1) Pink Floral High Waist Bikini, Topshop; 2) Black and Gold Frill Bikini, Miss Selfridge; 3) Beige Mixed Balconette Bikini, River Island; 4) Seafolly Bella Rose Bandeau Bikini, John Lewis; 5) Tie Dye Bikini, H&M.
The Swimsuit
The all-in-one swimsuit has seen a surge in popularity over the past few years, having come a long way from the sporty one piece you would wear for your swimming lessons. They are just as sexy as the bikini, but over a little bit more of cover, for those of us girls who don't feel as confident showing the stomach.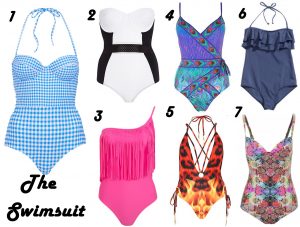 The Swimsuit: Blue Gingham Swimsuit, Topshop; 2) Black and White Colour Block Swimsuit, River Island; 3) Pink Fringe Swimsuit, Miss Selfridge; 4) Gottex Victoire Peacock Print Swimsuit, House of Fraser; 5) Red Katie Eary Leopard Flame Print Swimsuit, River Island; 6) Bandeau Swimsuit, H&M; 7) Multicoloured Snakeskin Cupped Swimsuit, Glamorous.
The Cover Up
Now that you have the perfect bikini or swimsuit sorted, you are going to need a stylish cover up, to throw on over that suit for a lazy stroll to the bar. Will you go for the full on glamour of a playsuit, or will you go more relaxed with a sarong and loose fitting tunic? There are so many options to choose from.
The Cover Up: 1) Multicoloured Tassel Jumpsuit, Topshop; 2) Black Floral Mesh Tunic, River Island; 3) Neon Yellow Chiffon Sarong with Sequin Detail, Glamorous; 4) Ted Baker Sugar Sweet Midi Cover Up, House of Fraser; 5) Blue Embellished Cover Up, Miss Selfridge; 6) Pink Pacha Rainbow Lace Shorts, River Island.
The Kimono
The Kimono really does deserve to be separated from the other pool and beach cover ups because of its super versatility. Not only do they look great thrown over a swimsuit, when relaxing on a sun lounger by the pool or on the beach, but also looks great thrown over a simple tank and a pair of jeans or shorts for day or evening wear.
The Kimono: 1) Feather Print Maxi Kimono, Miss Selfridge; 2) Blue Abstract Print Wmbroidered Kimono, River Island; 3) White Floral Embroidered Fringed Kimono, River Island; 4) Flower Longline Kimono, Topshop; 5) Chiffon Kimono, H&M; 6) Gottex Dragonfly Open Kimono, House of Fraser.
Little Extras
Now you can't go forgetting all those little extras to top off your holiday look. The straw hat is a must, it looks stylish and offers essential protection against the sun; a pair of oversize sunnies allows you to ogle at all the pool side talent on the sly; and some jewelled sandals will show off that lovely pedicure of yours.
Little Extras: 1) Straw Hat, H&M; 2) Perspex Shopper Bag, Topshop; 3) High Bar Aviator Sunglasses With Mirrored Lens, ASOS; 4) Multicoloured Eclectic Wrapped Bracelet Pack, River Island; 5) Aquarium Nail Effect Polishes, Barry M; 6) Sasha Metal Arm Cat Eye Sunglasses, Topshop; 7) Fixate Flat Sandals, ASOS.