Cold weather can mean that women are not as active as they usually are because it is too cold outside. When women sit around the house they tend to get bored, and with boredom can come a tendency to snack. However, women can eat boring snacks like chips and popcorn, but there are also some fun winter time snacks that are anything but boring.
Tortilla Snowflakes:
With a pack of tortillas, some oil, powdered sugar, and edible glitter, tortillas can be cut with a clean pair of scissors.
When the tortilla is warmed in an oven or microwave, it can be cut just like paper into all kinds of fun and tasty designs.
Once the snowflake design is finished, oil can be brushed onto the tortilla, and then it can be sprinkled with the edible glitter and powdered sugar for tasty wintertime treats.
Photo: carpeseason.com
Powdered doughnut snowmen: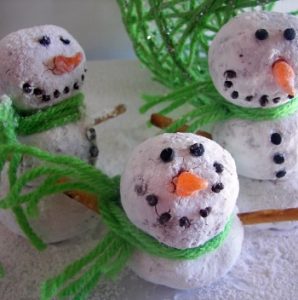 Kids can use white powdered doughnuts and donut holes to create their own snowmen. A tube of black cake decorating gel, peanut butter cup candy, and thin mint cookies can be used to decorate each little snowman.
To make the snowmen sit on a field of snow, a cookie sheet can be coated with powdered sugar.
Photo: redcouchrecipes.blogspot.com
Chocolate dipped peppermint sticks:
As Christmas time approaches, stores are going to be filled with candy canes and peppermint sticks. To make a fun treat, kids can use peppermint sticks and dip the lower half in chocolate.
All parents need to make the chocolate dip is a microwave safe bowl, chocolate chips, and colored sprinkles.
The chips can be mixed with a little oil and put in the microwave for one minute at a time until it melts. Once the sticks are dipped they can be dusted with sprinkles and then placed on a cookie sheet coated with wax paper to cool.
Photo: flickr.com
Snowmen pancakes:
Silver dollar sized pancakes can be made, then placed on a plate with decorations to make the face of the snowman like chocolate chips, whipped cream, sprinkles, and powdered sugar.
Photo: movingmommy.wordpress.com
Roasted marshmallow snowmen:
Three marshmallows on a stick can be roasted, then colored candies and pretzel sticks can be pressed into the melted marshmallow to create candy snowmen with arms.
Photo: somethingswanky.com
Peppermint hot chocolate:
A nice twist on a warm drink is to make hot chocolate with milk, and then when it's done, add a few drops of peppermint extract and then top it with marshmallows decorate with peppermint pieces.
Photo: alittleloveliness.blogspot.com
Caramel apple cider:
To make another drink to keep warm on a winter day, parents need heavy cream, brown sugar, apple cider, and heavy cream. Caramel whipped cream can be made by combining heavy cream and brown sugar.
The heavy cream and brown sugar need to be brought to a boil in a saucepan. Once the mixture boils, the apple cider can be poured in, mixed together and heated for about 5 minutes.
After the mixture is heated together, it can be poured in a mug, and then topped with the caramel whipped topping. Everyone is going to love the caramel apple cider, and it will be a family treat for a long time to come to be made every winter.
Photo: cieradesign.com