Spring is on the horizon, I can almost feel the pollen tickling my nose – I'm sure I'm not the only one who misses blue skies, green leafy trees and the emergence of the daffodils that signal the start of the season.
But Spring is a strange one; some days are wonderfully warm and you can't wait to pop on your flip-flops and enjoy the sunshine, other days there is a real chill in the air and you are hunting once again for your scarf and warm coat.
For these chilly days, your flip-flops and gorgeous gladiator sandals are just not going to be enough protection against the elements. Even those new embellished ballet flats will leave a little bit of a chill around the ankles. On the more brisk spring days, you need a good pair of boots, so here are the five boots you should own this season, pick your favourite.
The Vibrant Chelsea Boot
The Chelsea Boot is one of the all time classics – cute little boots with a small heel that go with every possible outfit. They look good with spring tea dresses, casual skinny jeans and more tailored cigarette trousers, and with little denim shorts or flared skirts. For the Spring 2014 season, the Chelsea Boot has been given a bit of an update, coming in vibrant colours and with colour pop detailing.
The Vibrant Chelsea Boot: 1) All Night Chelsea Boots, Topshop; 2) Aftershock Chelsea Leather Boots, ASOS; 3) Arizona Woven Chelsea Boots, ASOS; 4) Georgia Rose Boots, Sarenza.
The Cut-Out Boot
This particular style of boot has been around for a while, but they are going to still be big for the Spring 2014 season. The great thing about the cut-out boot is that it comes in so many variations and styles, there is something to go with every outfit and every personal style. A pair of contrast tights will really add some interest on those colder days.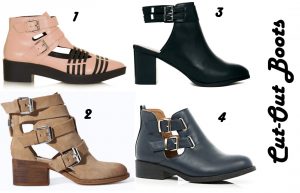 The Cut-Out Boot: 1) Axial Pointed Boots, Topshop; 2) Suede Leather Block Heel Ankle Boot, Zara; 3) Pull&Bear Cut Out Heeled Ankle Boots, ASOS; 4) Navy Cut Out Buckle Boots, River Island.
The Metallic Boot
Futuristic and spaceman-inspired fashion is set to be a key trend over the warmer months, with metallics making a real statement. It may be a it much for many to wear metallics head to toe, it can feel a little bit fancy dress – something from a bad Sci-Fi movie from the '70s. But, you can dip your toe into the trend, so to speak, with some shiny metallic boots.
The Metallic Boot: Silver Brogue Chelsea Boot, Russell and Bromley; 2) Arcade Cut Out Chunky Boot, Topshop; 3) Gold Leather Knee Boot, Debenhams; 4) Piece Cenia Boot, Sarenza; 5) Buffalo Maryl Boot, Sarenza.
The Cowboy Boot
It's time to go back to the saloon this season, with the cowboy boots being back on trend. Perfect for everyday wear the cowboy boot is a wardrobe staple that will be a good friend to you over many seasons – if you aren't sure of a shoe to wear, you can be sure that your cowboy boots will work. Hide them away under wide leg jeans (which are going to be hot this season), or show them off with a floral smock dress – oh the possibilities.
The Cowboy Boot: Mexican Tijuana Cowboy Boots, Sarenza; 2) H by Hudson Cavalette Brown Fringe Cowboy Boots, ASOS; 3) Brush Acne Cowboy Boots, Kurt Geiger; 4) Georgia Rose Fabuleuses Cowboy Boots, Sarenza.
The Leopard Boot
What girl can be without a little bit leopard print in their wardrobe? It is s style staple and always the most popular print, because not only is it stylish, but it makes most girls and women feel a little bit powerful. Just don't wear lots of leopard print head-to-toe, that will take leopard print from fashion delight to fashion disaster.
The Leopard Boot: 1) Zip Ankle Boot, Russell and Bromley; 2) Brown Leopard Print Platform Ankle Boots, River Island; 3) J by Jasper Conran Tan Leopard Shoe Boots, Debenhams; 4) Leopard Anarchic Ankle Boots, Debenhams; 5) Uphill Desert Boot, Office.