There are many ways to wear animal prints. Because they are so fashionable, designers have already created full outfit ideas with the prints in mind. You could also follow the inspirations of others to create your own. Here are some great ideas for animal print outfits to try out.
The Animal Print Dress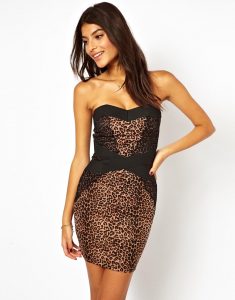 Opt for a dress that is in one type of animal print. With that outfit, wear a plain pair of shoes that match the print colour and a plain jacket. The dress is enough to make a statement. There are plenty of dresses available, whether you want a zebra, leopard or something more exotic. These dresses come in different lengths too to suit your needs.
Let Your Feet Do the Talking
Instead of using animal print in your clothes, let your shoes do all the talking. A simple black dress with a pair of zebra print shoes are perfect for a night out. You could add a few animal print accessories too, as long as they match your shoes. Try not to overdo the accessories though — less is more when it comes to animal print.
Add Black to Your Outfit
Wear an animal print top with some black jeans or animal print shorts with a plain black jumper. Black is perfect. Not only does it match one of the colours in animal print, in most cases, it will also help your funky designs stand out. You can also get a similar look by opting for plain white.
Opt for Subtle Prints on Your Trousers
You don't need to go out in blaring animal print if that isn't your style. There are many subtler styles, including the black and grey trousers.
These give you a different edge and are perfect for the more smarter events, including some business needs. They can work with all types of jackets, shoes and tops.
Opt for Outfits with a Twist
Instead of subtle styles, turn up the volume. Make sure yourself stand out by opting for animal prints with a twist. There are plenty of tops, skirts and dresses out there that do a zebra style in bright colours.
These can work great if you have a retro night coming up or you just want to stand out from the crowd.
Wear Outfits with a Hint of Animal Print
There are some dresses now that just have a hint of animal print. They can be black dresses with the off bit of leopard or white tops with a bit of zebra in them.
It makes it look like the animal has been covered in places by a sheet. They look really elegant and can make your casual outfit more business-like.
Add a Scarf in the Pattern
You don't need a lot of the animal print in your outfit to stand out. Instead of adding it to your shoes or tops, why not try a scarf. There are some great options that have the animal pattern but not the exact print. You can tone it down and look presentable for your lunch date or meeting at the office.