Move over classic black, there is a new go to classic for the Spring/Summer 2014, and it one that you probably wouldn't expect…denim. Denim has seen a real revolution over the past few months and has become the hottest clothing medium on the high street.
Denim has come a long way from the simple denim dress, standard skinny jeans and awful high-waisted shorts that show off way more than they should (I will be glad to see the end of them).
So let us explore the denim revolution, just don't wear all that denim all at once.
The Jean
There is nothing wrong with the standard indigo skinny jean, they aren't all that adventurous and this is the season of denim adventure. So before you go for that same pair of skinny jeans you have owned a few times before, try on a few different pairs in some new shapes – you might just find something really flattering, that will become your new go-to jean.
The Jean: 1) Indigo Acid Mom Jeans, Topshop; 2) F&F Patchwork Skinny Jeans, Tesco; 3) Pink Pastel Eden Capri Ultra Jegging, Dorothy Perkins; 4) Floral Jaquard Jeans, M&Co; 5) Flared Jeans, H&M.
The Dress
In Spring, what girl can be without her favourite dress? Why not mix things up a bit and make your favourite dress a denim one, as they come in more varieties than ever before – Bohemian chic of the shirt dress, the '60's appeal of the classic shift dress, or some vibrant printed denim, what will you choose?
The Dress: 1) MOTO Stripe Denim Dress, Topshop; 2) Indigo Butterfly Denim Dress, Dorothy Perkins; 3) Alina Jacquard Dress, Oasis; 4) Sugarhill Royal Jolie Denim Dress, Debenhams; 5) Denim Dress, H&M; 6) Linen Tencil Blend Dress, Mango; 7) Chevron Seam Dress, Warehouse.
The Skirt
There is no reason that denim can be sexy – choose well and a denim skirt can the sexiest member of your wardrobe. Show off your curves in a figure hugging pencil skirt, show of a killer pair of legs in a playful and flirty skater skirt, or leave plenty to the imagination with a well fitted maxi skirt. Don't forget there are plenty of fabulous printed versions, if you want a good statement skirt.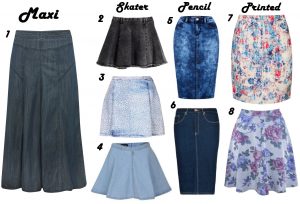 The Skirt: 1) Denim Maxi Skirt, M&Co; 2) Denim Skirt, H&M; 3) MOTO Leopard Flippy Skirt, Topshop; 4) Glamorous Denim Skater Skirt, USC; 5) Navy Mottled Denim Tube Skirt, New Look; 6) Dark Denim Skirt, Mango;  7) MOTO Floral Denim Midi Skirt, Topshop; 8) F&F Floral Print Denim Skater Skirt, Tesco.
The Top
Denim is a great material as it is durable and long wearing, making it perfect for tops. It can be structured and fitted, or soft and loose, such is it's versatility. Of course you can't forget the denim jacket, we have all owned one at some point or other, but this season why not try something different with a denim lightweight mac… gorgeous!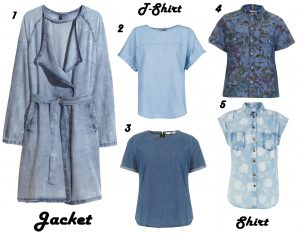 The Top: 1) Trenchcoat, H&M; 2) Mango Jacquard Denim Shirt, John Lewis; 3) Midwash Denim Tee, Dorothy Perkins; 4) MOTO Bloom Print Shirt, Topshop; 5) Floral Denim Shirt, Primark.
The All-In-One
I have said it many times, the jumpsuit is the hottest clothing item of the season – so it makes sense that there would be a few denim variations available, the boiler suit being the most popular. Wear with the hems turned up and a cinched waist for a 1950's vibe. The dungarees are also back in a big way and are brought up to date with slim legs and more fitted silhouettes.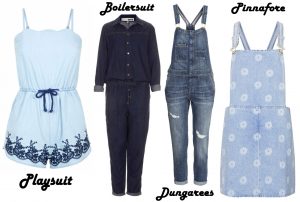 The All-In-One: 1) Embroidered Denim Playsuit, Primark; 2) MOTO Indigo Utility Boilersuit, Topshop; 3) Dungarees, H&M; 4) MOTO Daisy Print Pini Dress, Topshop.